One of the exciting developments in technology was when Augmented Reality (AR) enhanced the convergence of IoT, AI, and Cloud Computing.
AR's true potential is evident in niche use cases like monitoring performance in a manufacturing unit or creating next-generation ADAS systems to contextualize real-time digital content dissemination. This potential is leveraged for enterprise growth in stage four of the AR maturity model called Leading or Lead (Best-in-Class).
In this stage, the organization's people and processes would have established themselves in the AR industry or contributed to transformational AR projects. The company would have successfully transitioned from the Explore stage to the Deploy Stage and already championed AR Connection & Scaling to gain a significant position in the AR growth ladder.
The five areas that could give your business the competitive edge in Augmented Reality are: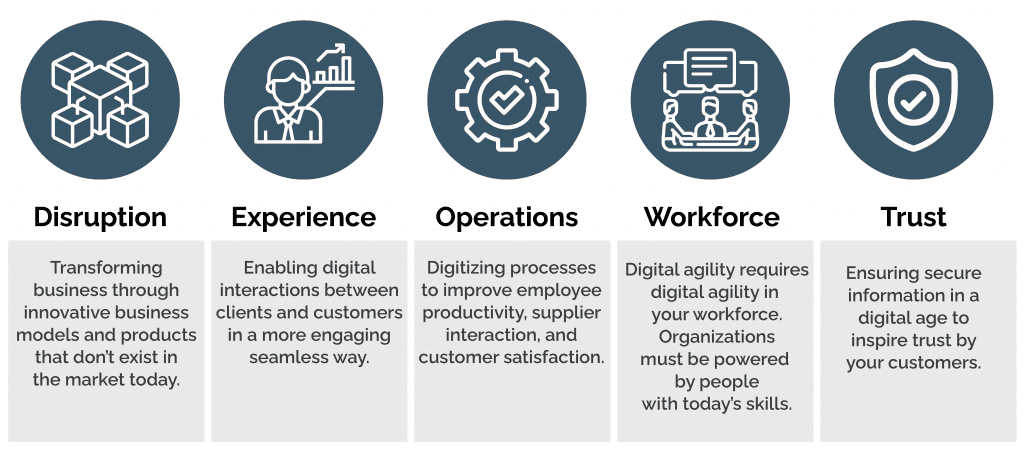 AR applications for smartphones and tablets are a crucial area of business investment today. This is because the AR hardware is available, and the usage is widespread and intuitive. Additionally, AR content for mobility is currently in high demand.
According to Randall L., the chairman of AT&T, the arrival of 5G technology was swift and steady. This arrival could be an excellent enabler for increased AR adoption because of the demand for near real-time operations.
AR is predicted to grow with new hardware, 5G, and Edge Computing, many companies, are bracing with innovation in-hand.
Here are the critical areas where AR will play a crucial role in revenue generation for mobility and hardware.
Mobile AR could significantly spike up mobile network data usage, with developers taking advantage of new features and leveraging the cloud to keep things lightweight and fast.
AR's role in an organization becomes very fundamental, considering similar AR applications can give an organization the leading edge.
This reshapes the C-suite's AR responsibility, where a new position like a Chief AR officer can be allocated.
The leading stage makes the AR platform's capabilities available throughout the enterprise and extends them to suppliers and customers. This phase includes leveraging the data from IIoT devices within indigenous and external AR environments.
Roles and the % of their AR experience may be distributed within the enterprise or externally, as shown below. This experience could contribute to an enterprise's digital transformation through AR.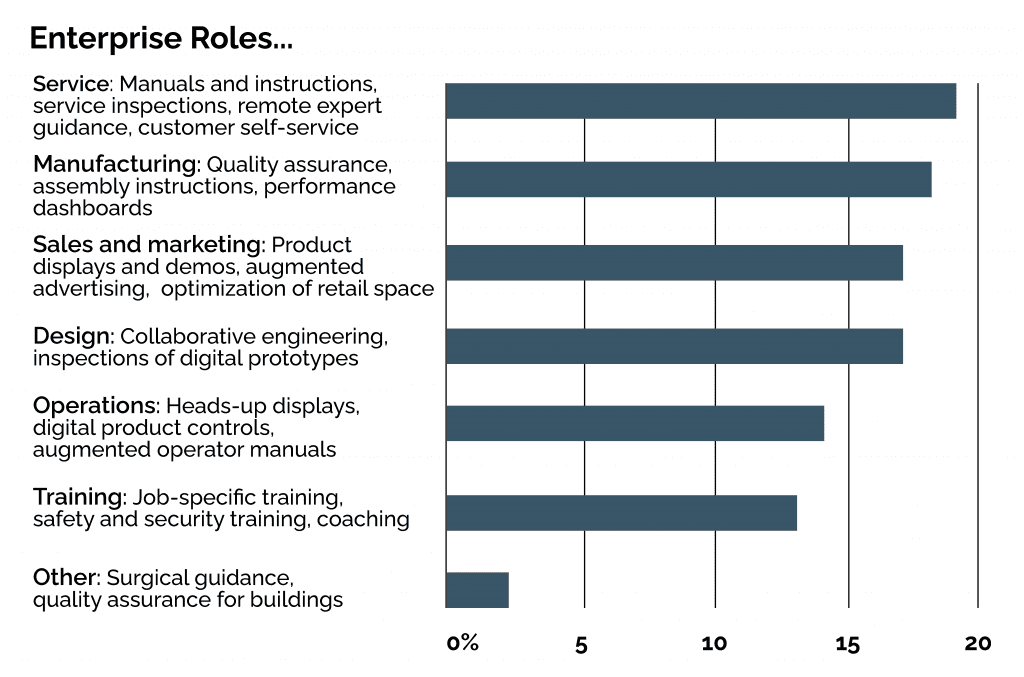 Designing a productive ecosystem where every 3D professional can create excellent applications is key to making AR a dominant platform. However, the augmented reality branch of any industry still requires significant investment.
Not every company is ready to provide this. To create special applications, skilled developers need specialized hardware with an impressive set of features. To attract AR investments, you need unique apps (cannot be designed yet because AR technology is just evolving).
Another area of consideration lies in democratizing AR through crowdfunding, like in the case of LUCYD. This AR start-up released its blockchain-powered AR smartglasses' for the mass market. Building on a decentralized, blockchain-enabled open innovation. This led to collaboration with AR giants for their formidable expertise and recognition of LUCYD's leading-edge technology.
Democratization can also include the launch of a free app and a simple evolutionary SaaS model to build the solution and the brand name. Features like QR code for app access to an AR experience drive engagement and unlock brand value.
Another aspect of AR technology leading could mean introducing the real-world platform of a brand for AR communications, security, mapping, and functionality, which could become mainstream.
Here's the growth chart trend for the leading companies (Google, Facebook, Snap, Baidu, Alibaba, and Tencent) that have invested in AR's core areas from 2016-2021. The reality of AR growth becomes more visible in the Leading stage of AR Maturity.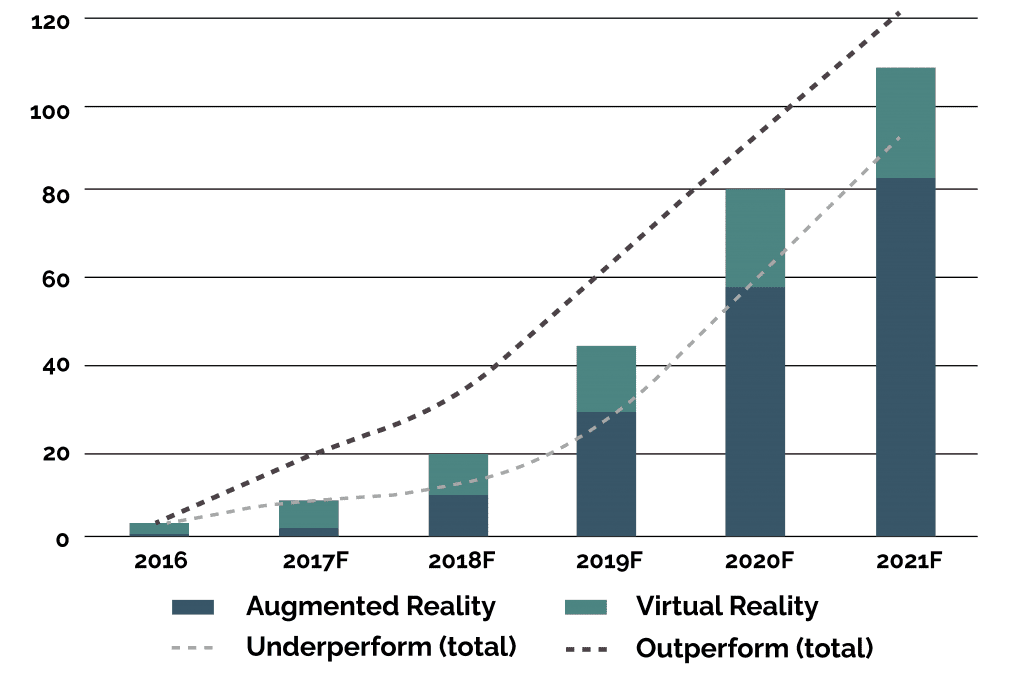 The crucial aspects of this stage in the AR Maturity Model include:
Activities
All people and processes are in the course of being augmented.
The reinvention of business processes.
Availability of the AR software platform to the extended enterprise (customers + supply chain).
ROI maximization strategy implementation.
The Chief AR officer role is considered/in place.
The establishment is regarded as an Augmented enterprise.
Strategies
A predictive strategy is designed to cater to different business use cases from a well-integrated and successful AR implementation.
Data from AR implementation used to drive continuous improvements in processes, workflow, and team collaborations.
Technology
The emphasis laid on interconnected glasses, devices, machines, and sensors.
AR is adopting Edge computing as 5G is gaining momentum.
Predictive AR experiences leveraged.
Intelligent and self-adjusting task flows are streamlined and optimized.
Content
Different AR content is made more personalized and adaptive.
Enterprise AR standards emerge, allowing for systematic content reuse and improved cost-efficiency.
Budget
AR software and hardware investments would have become a part of the core operating infrastructural cost plan.
IT Role
IT teams align entirely with the enterprise IT and leadership strategy of AR.
Digital agility builds into the AR technical, non-technical, and business workforce.
Multiple success stories in AR for a brand would elevate industry recognition and encourage innovation that catalyzes broad adoption.
Leading is the final stage in the AR Maturity model. It may include the integration of technologies like IIoT with ARMP and also moving from prototyping to production.
Radiant Digital has been instrumental in helping clients move from being AR adopters to leading AR enterprises. Connect with us today to learn more.