Recent advances in high-speed mobility coupled with an explosion in digital storage capacity have opened the door for Augmented Reality. AR is catapulting to the next level due to the ubiquity of high-speed wireless broadband connections, mass adoption of reality-based technology experience, and the limitless data store and continuous data streaming using IoT.
Consumer AR applications for retail, real estate, and other sectors are already present on hundreds of millions of smartphones (utilizing built-in cameras, microphones, accelerometers, and GPS). The development of new AR-specific chipsets from major chip companies like Qualcomm and Nvidia is lowering the AR price-point and driving AR application providers' entry into the market.
AR products and services are emerging as a significant-tech/media industry. AR is just starting to break out of its infancy; thus, the possible applications that may evolve in the future are limitless.
Enterprise Adoption of Augmented Reality
AR is the latest harbinger of productivity and cost optimization. According to a report by International Data Corporation in 2019, the global spending on AR could reach $160 billion in 2023, with investments in training noted at $8.5 billion and industrial maintenance at $4.3 billion.
According to Greenlight Insights, the worldwide spending on AR content and head-mounted displays will likely reach $36.4 billion in 2023.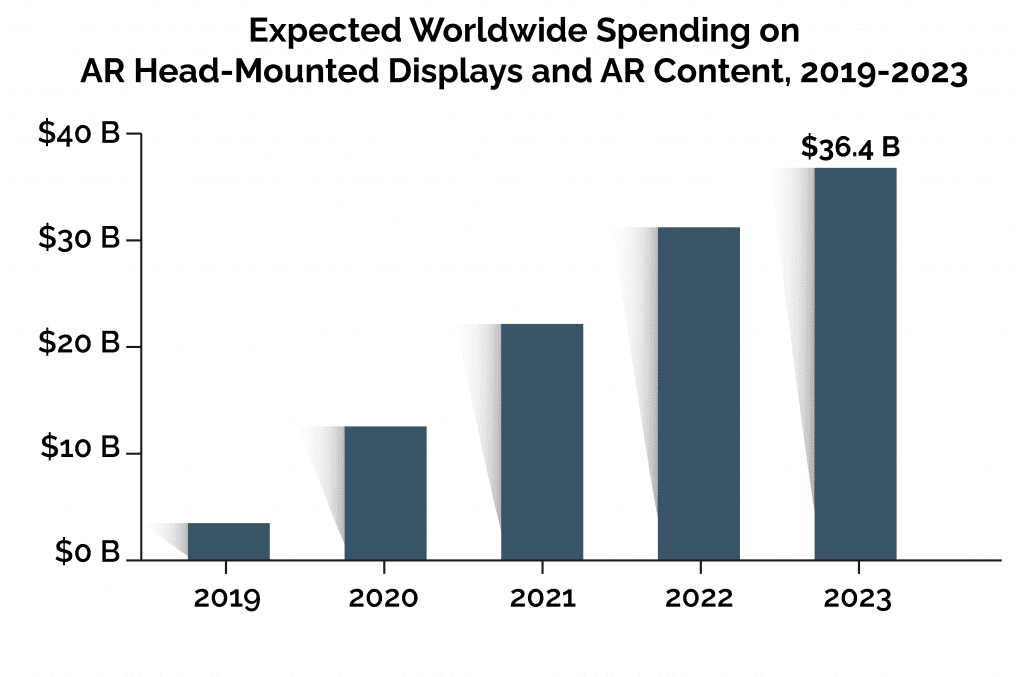 AR's valued business application in commercial enterprise, the public sector, military, education, and other domains cannot be ignored.

Organizations often adopt an AR Maturity Model strategy to help manage return on investment. In addition to implementing AR solutions, Radiant instills this construct so organizations can realize the full potential of AR across the product lifecycle. We implement AR to facilitate tasks, provide access to valuable resources, and solve complex natural environment problems.
Radiant supports Augmented Reality solutions for manufacturing, utilities, logistics, telecommunications, and other industries with application development and maintenance.
AR 'Explore' Stage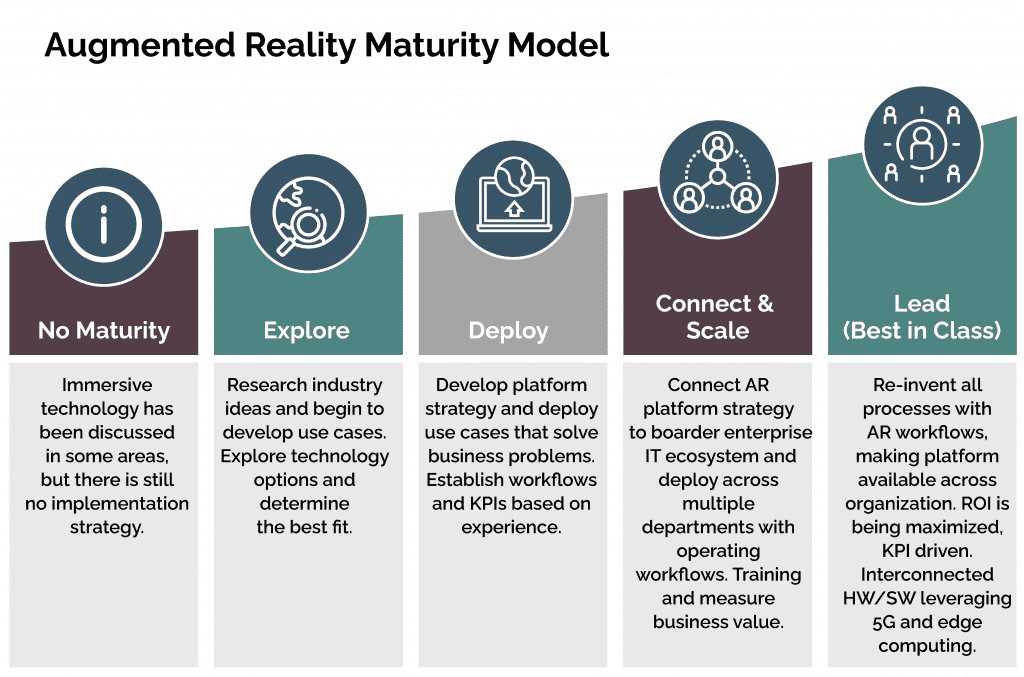 The true potential of AR is evident when one explores its utility in various segments. Due to the quickly evolving technology and its looming broad adoption, there is a lack of use cases and literature to substantiate its implementation and applications.
In this light, the AR Maturity Model guides enterprises to use AR for product development, performance improvements, tackling business velocity, managing change, handling opportunities and challenges of connectivity advances, managing resource needs, talent augmentation, and at-scale operations.
Exploring or Exploration is the initial stage of the four distinct phases within the AR Maturity Model; it marks the information collection, value discovery, and insight-driven approach to AR. Here are some key points to note:
The Exploratory stage is the stepping stone to understanding the technology inside-out before manifesting it through products and services.
Exploration lays the foundation for all the other stages that lead to Stage 4 – Lead Generation, which yields the maximum benefits to an enterprise.
Researchers and AR project engineers research industry ideas, already implemented products, and begin to develop rudimentary use cases in this stage. This also involves exploring technology options like AI, ML, IoT, Big Data, 5G, and others and finding the best ways to integrate them, if necessary, to find the best fit.
Interest in AR could arise from anywhere in the company, including field service, training, maintenance, engineering, operations, innovation, and research.
Exploring may also include instances where the differentiating lines between AR, VR, and XR begin to blur. A collective realization that wearable technology is beneficial to workforce productivity may be the only driving force.
A collective awareness that competitors have started implementing AR may also drive organizations to take AR more seriously.
Here are frequent events of the Exploration Stage and their characteristics.
Activities
Learning about AR, VR, XR, and their differences.
Fathoming the landscape of AR software and hardware platforms and their interdependencies.
Gathering ideas from real industry use cases.
Exploring a singular use case or maintaining an inventory of potential use cases.
Using AR in a trial setup or simulated environment.
Understanding the key drivers of AR and its performance metrics to evaluate the technology.
Strategies
During Exploration, there is no commitment to a core AR strategy yet.
Adhoc- There is no larger plan at this stage for AR implementation or defined action points for various AR users. The organization may choose ad hoc devices or technology strategies.
This may contain one or more AR pilots or trials.
No complicated rules on AR activities and workflows.
Technology
Hardware-driven Device Strategy- Interest in AR may be sparked by using smart glasses like the Hololens or a demo of AR applications on mobile devices.
Purchasing a wearable or any other AR hardware device based on a hunch may solve a problem.
First experience with AR software implementation.
Content
Existing digital content evaluation for AR includes disconnected information, monolithic manuals, paper-based processes, and other scattered content.
One-off (and expensive) custom AR content development gives a sneak peek of what is possible with AR but could never scale.
First-generation digital task flow.
No real sense of the power of ubiquitous, contextual, and relevant content.
Budget
Limited or no budget or budget plans set for the diverse needs of AR.
An "innovation" budget is introduced that is shared and used by various departments based on discretion.
IT Role
Minimal IT involvement is foreseen.
These include enabling ports, proxy configuration, and mobile device management.
At the 2019 Enterprise Wearable Technology Summit, a broad swathe of organizations took part in a survey on when to start exploring AR. Here are the numbers on the different scopes of Exploration.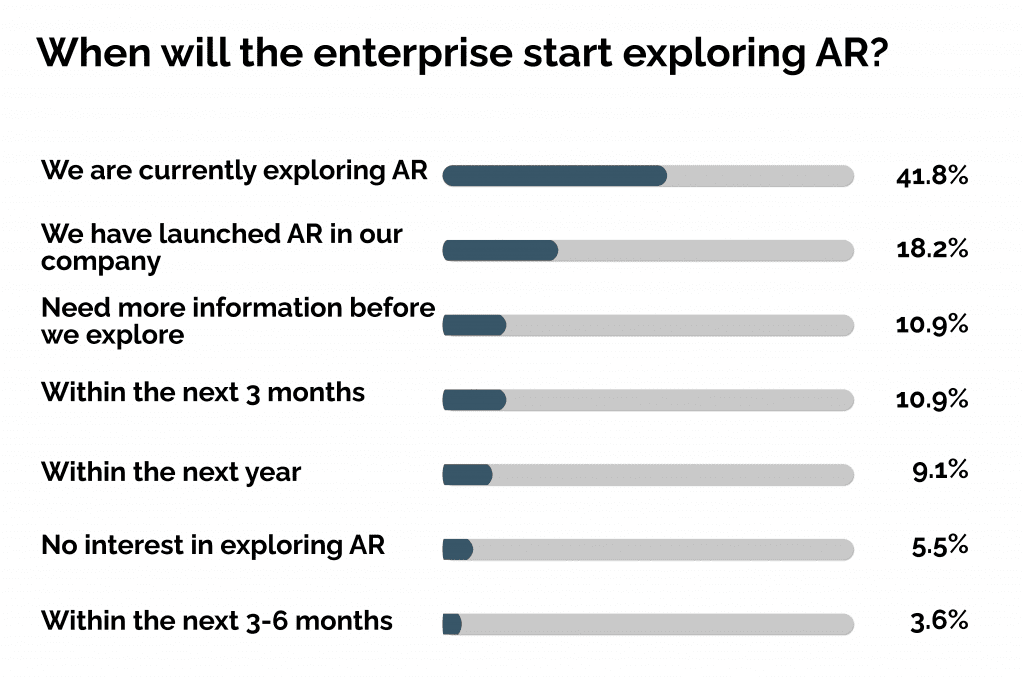 Conclusion
The Exploration Stage must not be taken lightly. It defines how soon and to what extent an enterprise will master AR through structured and unstructured learning and development.
Radiant Digital can leverage the available information and the depth of knowledge your enterprise possesses to take your AR journey to the next level.