The ongoing pandemic has led to the growing trend of working and managing teams remotely. UX managers need to manage distributed teams in digital industries while facing complex challenges like ensuring efficient development, selling the UX vision to the key stakeholders, getting work done, and studying the varying customer needs. Teams need to ideate, design workflows, organize insights and gather feedback in real-time. What becomes a threat to the UX design collaboration environment is the 'disconnect' between participants.
The time spent for decision-making and achieving alignment, if more, translates to dollars lost in the process. Remote UX design teams work with diverse people who bring unique skills to the table. Many companies are switching to remote work to lower operational costs, improve work-life balance, retain talent, and reduce carbon footprint. This has led remote teams' management to become a sought-after skillset for many managers.
While there are many monetary and operational benefits, remote teams' management comes with a few drawbacks and challenges that include:
Collaboration and communication lags
Diminished focus and productivity
Scheduling shortfalls
Complex task management
Work culture disparities
Scattered data storage
Difficulties in tracking performance and revisions
Project workflow(s) streamlining issues
If you're leading a remote team, you'll need to figure out:
The tools your design teams need to keep work moving forward.
Ways to stay in the loop about everything impacting the team and their work.
Methods to make design team collaboration and communication seamless.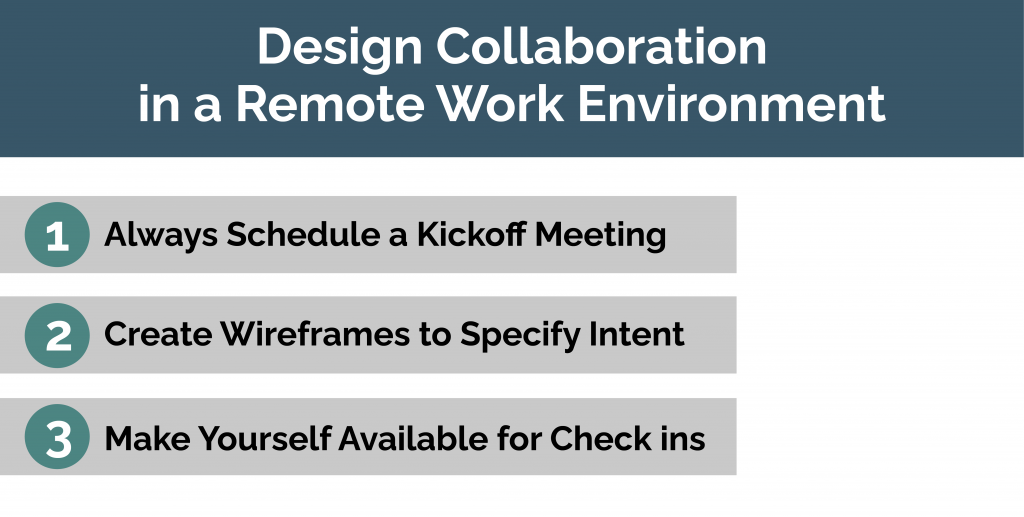 As a remote-first company, Radiant Digital builds tools and offers team management plans that enable distributed design team collaborations. This blog discusses the different aspects and considerations that influence streamlined remote collaboration for design teams.
Critical Elements for Managing Remote Design Teams like a Pro
Design Systems: Almost always strive to build Design Systems for larger projects. This is essential if you work for multiple long-term clients.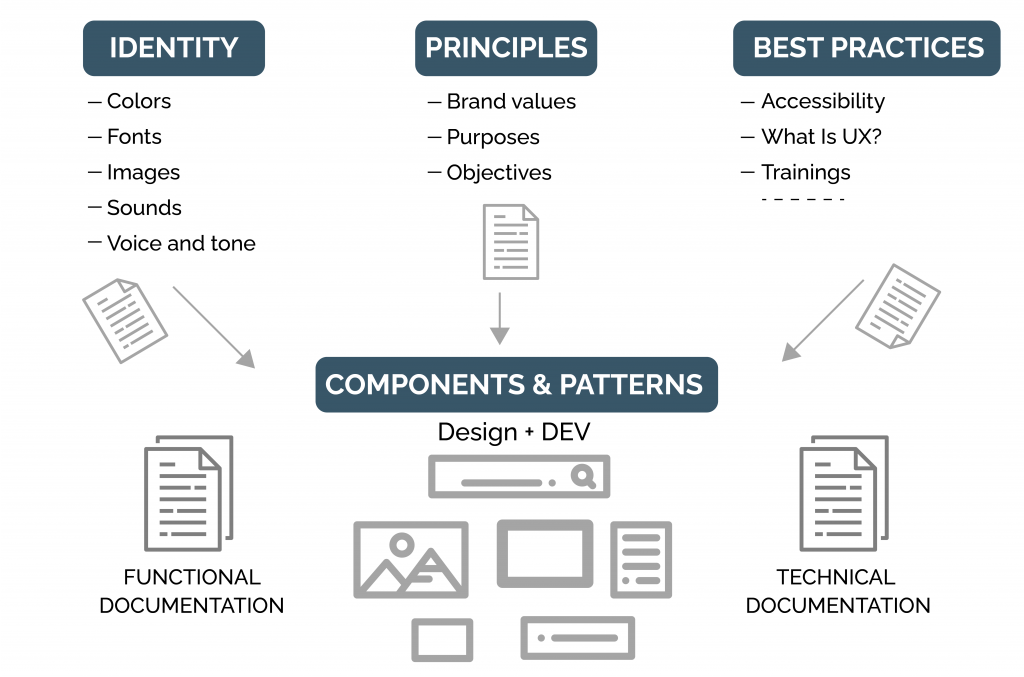 Design Systems help keep everyone honest as they act as the single source of truth for developers, designers, and other involved parties. They also help make onboarding new team members a snap.
Team L&D: Learning influences personal and professional growth, so prioritize spending on employee upskilling. In many cases, with cost savings, team leaders can achieve funding for employee development, especially for remote teams. New design skills' development and training inspire "Design Thinking" in UX design teams.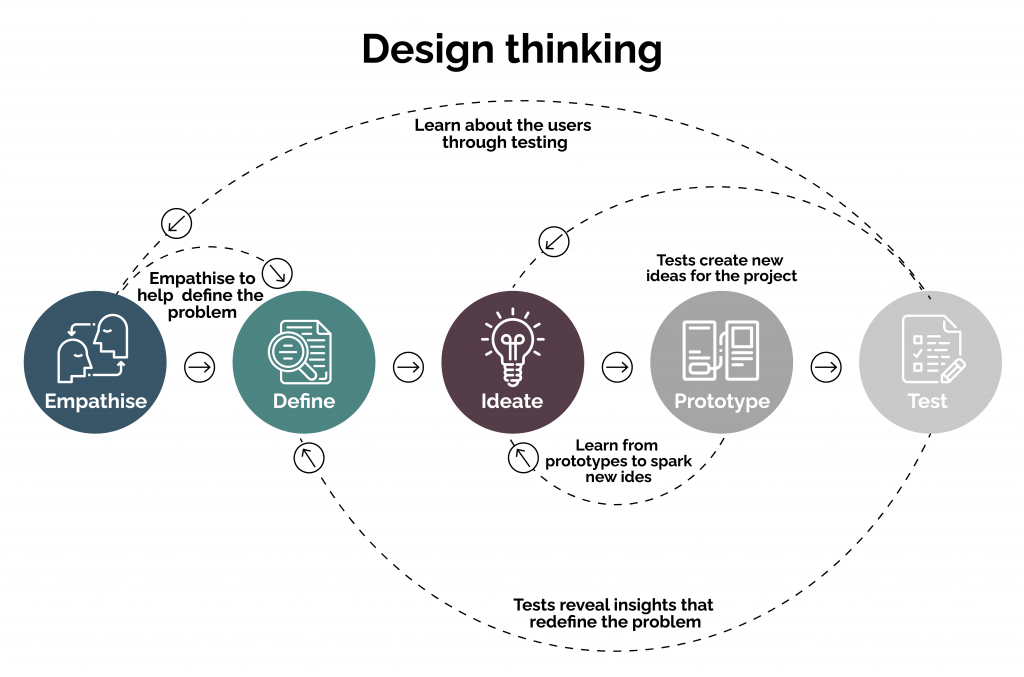 It's essential to provide employees with the flexibility to embrace learning based on their interests and the most effective method for the best design outcomes.
Collaboration Software: This goes without saying that collaboration software tools are essential to remote working. Video conferencing apps such as Zoom, Teams, Slack are just scratching the surface of what is needed to make remote teams work effectively. Project management, collaborative design, and prototyping such as Figma are all the rage these days. Make sure you're always looking beyond the horizon to see the latest and effective tools and platforms to help take your game to the next level.
Whiteboard and Cloud-based Tools: Peer review and feedback are essentials to design work collaborations, and physically conceptualizing ideas filters out a lot of the guesswork and uncertainties.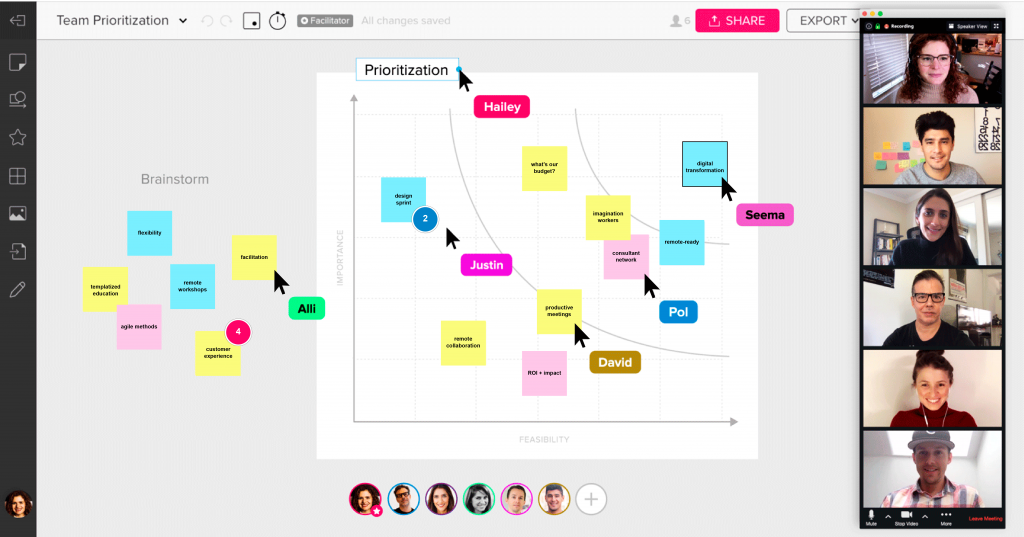 We recommend using digital whiteboards to accomplish better understanding and decision-making when in a remote space. Cloud-based tools help share notes, documents, and digital resources to keep everything accessible across the team and improve transparency. They even help in the concurrent access of data and instantly implement changes at a centralized file location remotely.
WIP Tracking: Communicating work-in-progress (WIP) for active projects is an essential yet painful task. Images shared in project tracking tools can get lost in the noise, feedback can fade away while you can't measure the context or sense of progression easily.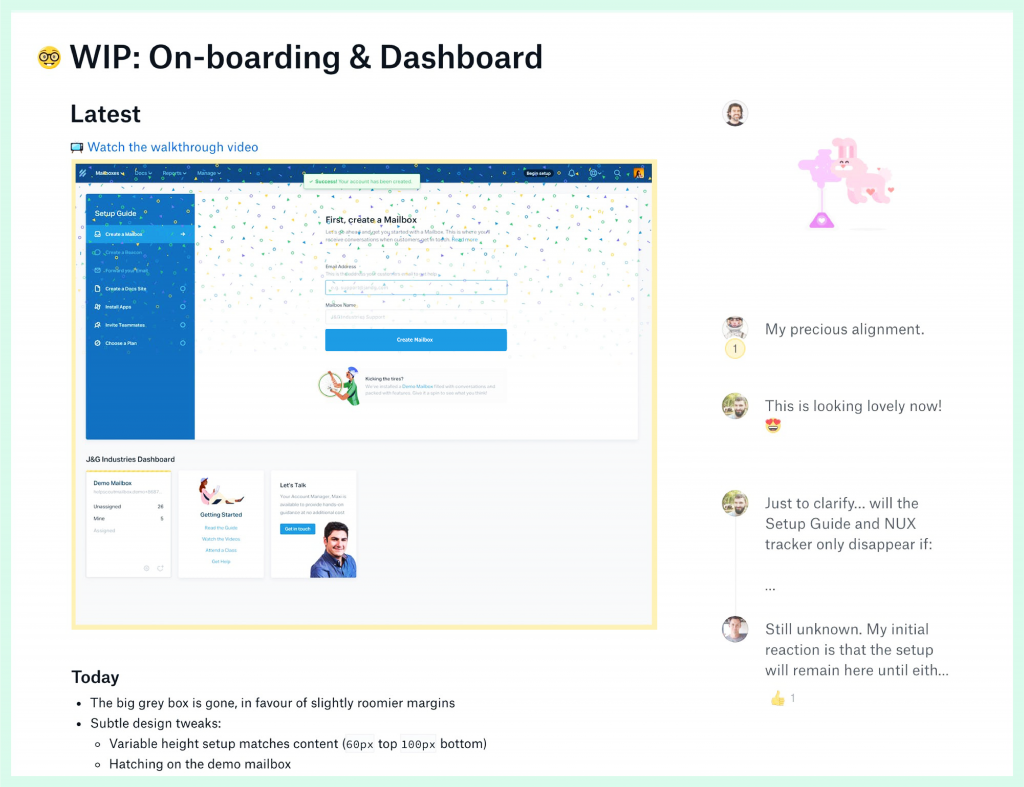 We recommend using a single Paper document created by the designer to track their progress. The entire team can access this document. The designer will have to make an entry for work and share it with the team. They can quickly slide in a few screens and annotate some of the areas for discussion. This can be accompanied by a short walkthrough video as well.
Tips for leading Remote Design Teams with 100% Confidence
Collaborate Cross-functionally: A design lead can prevent the fragmented communication between engineering, PM, and design departments using an Artboard with instant messaging features and task tracking features. With cross-functional collaboration, decisions and clarifications come out in the open rather than being buried in JIRA comments and Slack threads.
Design Reviews: (or critiques) are essential to put design teams on the right track and fine-tune their work. Individual projects often establish a review cadence, but design teams can also host comprehensive reviews. This would help build trust and strengthen communication channels. We suggest doing it weekly. This allows for the sharing of best practices, learning, and recognizing work overlaps. It provides a significant touchpoint where you can assess people's moods, behaviors, and general approaches to different design tasks.
Remote Design Approvals: Managers must request a review from key stakeholders and designated project reviewers. When everyone gives the go-ahead, the team manager can ask designers to merge their branches. Once all the required components are integrated into the master, everyone gets access to the latest data.
Track Metrics: When leading a distributed team, focus on the metrics that matter like turnaround, effort estimation, cost-to-effort valuations, etc. Instead of worrying about how someone works, focus on objectives, outcomes, and behavior in a quantified manner. The goal would be to ensure that a remote UX designer completes their tasks promptly, within the set cost thresholds, and does so professionally. It is essential to focus on what is being accomplished than on how it is completed.
Prepare Beforehand to Prevent Poor Performance: Encourage your teams to prepare as many 'known' factors in advance to reduce the chances of a poor presentation. It is essential to document what you can control ahead of time.
Communicate meeting details like Dial-in information, participant instructions, and video links ahead of time to reduce delays or interruptions during the presentation.
Prepare the team: Set a meeting with each designer or group before the presentation to review all necessary information.
Have a backup plan: If you're facilitating a live demo, have a plan in place for team members to take over or step in if another is unable to present at that last minute.
Create Appropriate Leadership Infrastructure: Depending on how large your remote teams are, UX design team managers may need leadership assistance. Here are some questions to ask before helming the responsibility.
Are you the most suited person to lead the team?
Are you able to keep up with various design team members and their roles?
Do you prioritize your design tasks over management responsibilities?
How do your team members perceive your leadership?
The remote delegation of tasks and leadership responsibilities requires careful planning. Giving other team members a chance to advance is an excellent quality in a leader. Additionally, there are other effective ways to accomplish your project's design milestones remotely.
Show appreciation for excellent work: Remote teams miss out on receiving positive visual cues from the in-person conversation. It's this important to praise sincere efforts on a stand-up call explicitly. After all the dust has settled, take time to reflect on the wins, innovations, and triumphs. Celebrating even the most minor victories can have tremendous effects on team morale and attitude.
Incentivizing high performance: Designers can feel detached from work when away from their work environment. Introducing material incentives for high performers can help designers feel invested in the quality of their work.
Providing constructive feedback: Leaders need to be explicit when requesting changes or adjustments from employees. Professional feedback and a work-oriented approach enable better cooperation and faster deliveries. Just as crucial as recognizing accomplishments is identifying the shortfalls and devising a plan to tackle them. Constantly challenging everyone to improve helps to keep the team growing and engaged.
Maintaining a culture of open dialogue: A manager must foster transparency to avoid employee disconnect with work and colleagues. Take ownership to facilitate the free flow of design, information, thoughts, and ideas.
As much as you can, get everyone involved in running meetings, planning projects, conducting research, etc. Allow your team to develop the skills to take their careers to the next level.
Play to your team's strengths: Every UX design team is different, and team members have different styles and approaches to work. Empowering them to do better rather than forcing them to conform to your preferred method is a leadership virtue preferred in remote interactions.
Carefully planning your remote design team management increases design productivity and assures desired outcomes. By doing this, you can:
Create the ideal space for creativity.
Foster new ideas.
Help your team absorb different perspectives.
Provide a professional work environment where deadlines are met with shared workloads.
Ensure continuous project success.
Wrapping up
Remote presentations are convenient and enable seamless communication in different time-zones at a magnitude in-person presenting does not afford. Leading a team that thrives in a creative, collaborative, and visual environment can be extra challenging remotely. With the right strategies and approach, remote management can help set the stage for smoother execution or a call to action. This will improve the mission and vision of your UX design projects.
Your team's output doesn't need to suffer because of distance. You can meet all your daily goals without compromising on work quality. Ask us how.