In 2020, an estimated 82.5 billion U.S. dollars were spent on training across the United States (Statista, 2020). Organizations today are spending more on training than they ever have in the past, as the numerous benefits provided by investing in employee training and development opportunities continue to be recognized. Yet the question remains, how much of that training being developed is genuinely translating into noticeable positive differences in employee performance?
According to the research, probably not enough. Arthur, Bennett, Stanush, and McNelly (1998) conducted a meta-analysis of skill decay studies. He reported that trainees exhibit little to no skill decay the day after, but after 1-year trainees have lost over 90% of what they learned. It's being experienced that a lack of training transfer is estimated by the level of correlation between learning scores (in training) and performance metrics (on the job). The transfer is critical because without it an organization is less likely to receive any tangible benefits from its training investments.
In the traditional sense of the word, training is most often characterized by a one-off format of instruction typically involving a classroom setting where a facilitator guides the learner through the information designated explicitly for that training session. The problem with this format is that there is no guarantee that anything taught will be retained (and applied) by the employees in attendance after the training finishes. This situation is one of the key reasons why training may not pay off, as it is not so much about the learner's abilities to retain information, but rather about the content being delivered, the method being used for delivery, and the lack of follow up within the current processes. The popular colloquialism "use it or lose it" especially holds in this situation, for one particular training session cannot be relied upon to produce noticeable and lasting results. So, what should organizations be doing differently when it comes to training their employees if they want to see an actual return on their investment? The answer is providing ongoing training opportunities instead. 
The graphic below based on the Continuous Learning Model shows that even though traditional training does initially provide some level of understanding, retained knowledge will steadily decrease over time. Meanwhile, learning remains constant if there are available eLearning courses, mobile education suited for easy access, designated time to speak with supervisors about career/skill development, communities built around learning, and opportunities to interact and learn alongside peers. This continuous model of learning, which promotes an ongoing relationship between the organization and the learner, is the solution needed to ensure that the time and money that goes into training is returned through increased employee skill and performance.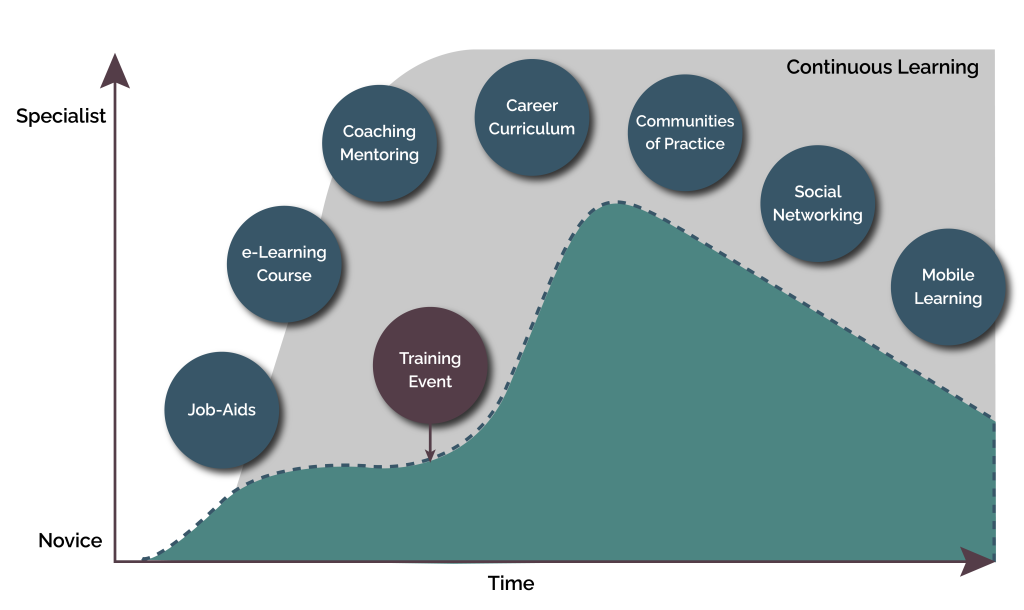 After learning how beneficial ongoing training can be compared to the traditional one-off method for retention and performance, what can companies do to move toward an organizational learning culture characterized by promoting continuous learning? 
Adopt a companywide strategy of continuous learning
First things first, to have a thriving learning culture, the organization involved must actively promote the idea of learning and training to its employees. Doing so becomes natural and habitual for employees to explore developmental options, the norm rather than the exception. Research has shown that a supportive organizational culture for newly acquired Knowledge, Skills, and Abilities (KSA's) results in trainees applying training more effectively on the job (Rouiller & Goldstein, 1993; Tracey et al., 1995). The more leaders indicate that training is essential to the organization, the better the outcomes of training.
Choose the right tool and method for training
When developing a culture of ongoing training and learning, you must be realistic with your employee's time. Requesting all employees to sit through numerous classroom training on top of their busy and fluctuating schedules may not be the most feasible option. Instead, start taking advantage of what online learning platforms offer, including ease of use, learner autonomy, instant feedback, tracking, etc. This is not to say traditional training is never the way to go, as some training may be best suited for an in-person format but considering all of your available training options should be one of the first steps in implementing continuous learning.
Get leadership involved
Culture starts from the top and trickles down, so management needs to communicate their support for continuous learning activities and participation. The reward of promoting ongoing training is that training no longer fits into one box (such as training new employees); it can now be focused on what is essential to the development of each individual at each level, including management. 
Reward learners
It may be beneficial, especially in the early stages of developing continuous training, to make the experience valuable, fun, and engaging in promoting adoption. There are many ways organizations can motivate self-directed learning, such as introducing gamification components into the learning environment. Consider awarding badges based on the completion of a task or learning activity. Use points to mark achievements and progress where learners can move through different levels based on the number of courses completed or events attended. Do something that conveys to your employees that learning is a top priority within the organization. 
Provide autonomous options
Developing a continuous learning environment may seem challenging and time-consuming when starting. But promoting ongoing learning opportunities does not have to be managed on the organizational side solely. Some systems can easily be put into a portal containing job aids and knowledge repositories or databases that track learned and automatically recommend supplemental training. It is also possible to set up employee-led programs by establishing "communities of practice" where individuals of similar interests and job knowledge can interact virtually or in-person to answer questions and discuss challenging situations. Training is not always about knowing what was learned but should also prepare learners to understand where (and whom) they can go for help in the future.
Track and analyze results
Finally, track and analyze the results of any implemented training programs. By doing so, you can figure out what is working and what isn't. A massive downfall of the traditional training method is there is usually no follow-up or effort to track what was learned. And so, by actively working to do so, retention is no longer a guessing game but rather a thought-out and practiced methodology.
Here at Radiant Digital, we specialize in providing learning solutions to suit your organization's needs. We can help you develop training opportunities and implement change management strategies to promote a successful transition to a learning culture. Reach out to us today to see how we can help.
Citation:
Arthur, W., Jr., Bennett, W., Jr., Stanush, P. L., & McNelly, T. L. (1998). Factors that influence skill decay and retention: A quantitative review and analysis. Human Performance, 11(1), 57–101. https://doi.org/10.1207/s15327043hup1101_3
Salas, E., Tannenbaum, S. I., Kraiger, K., & Smith-Jentsch, K. A. (2012). The science of training and development in organizations: What matters in practice. Psychological science in the public interest, 13(2), 74–101. http://www.jstor.org/stable/23484697.
Statista Research Department (2020, December 15). U.S. Training Industry Expenditure 2020. Statista. Retrieved September 27, 2021, from https://www.statista.com/statistics/788521/training-expenditures-united-states/.