UX designers are under constant pressure to innovate and solve complex user problems with empathy. In addition, they need to foster product design innovation to gain a distinctive competitive advantage, including infusing a design-driven culture with a customer-first approach. Radiant Digital implements "Design Thinking" to connect the dots between human desirability, economic viability, and design feasibility. Read on to understand the principles of the Design Thinking process and its five stages of implementation.
Defining Design Thinking
Invented by Stanford University's d.school as an approach to technical and social innovation, Design Thinking is an ideological process that seeks to solve complex problems and derive solutions in a user-centric way. It focuses on achieving the following results and practical solutions with a designer's mindset and user's perspective.
Technically feasible: They fit into the technical specifications of functional products or processes.
Economically viable: Businesses can afford to implement them.
Desirable for the user: They cater to fundamental human needs.
Design Thinking is all about getting hands-on and converting ideas into tangible and viable products or processes at the earliest. The Design Thinking Process entails steps that materialize ideas by building prototypes that leverage designer empathy for users.
The Process of Design Thinking and Why it Matters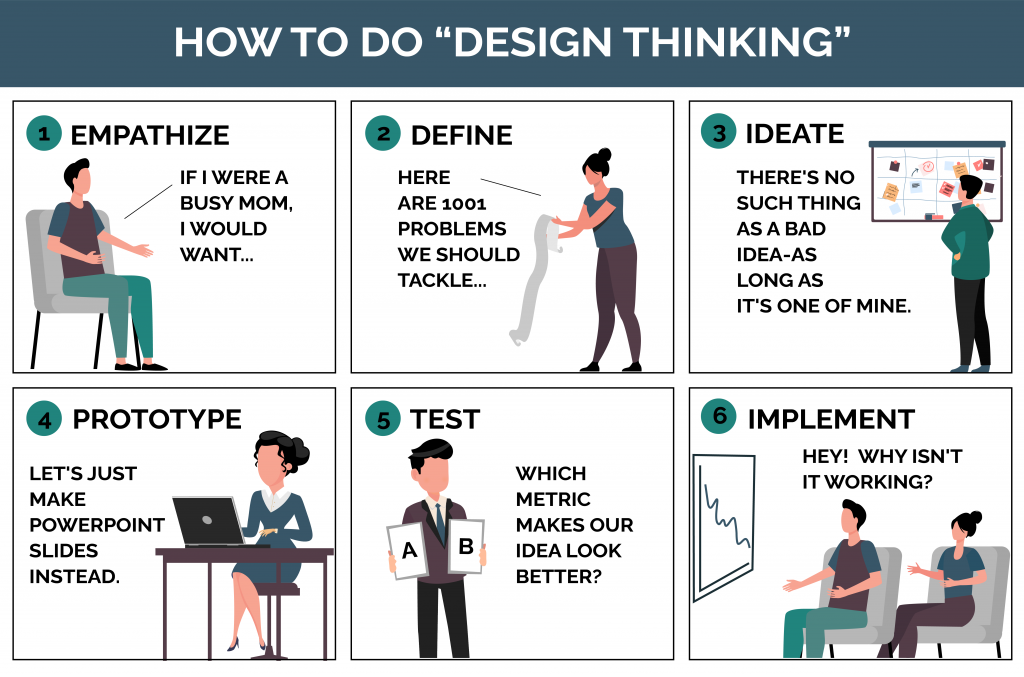 The Design Thinking process is a non-linear solution-focused framework that encourages creative thinking to develop products that address diverse user problems. The five crucial stages of Design Thinking enable designers to develop ideas and perspectives, design innovatively, and test prototypes for existing and novel concepts from the user's perspective. Each stage may spark new ideas or findings in the user journey, inspiring new iterations for the completed phase. The five stages of the Design Thinking process would induce creators to examine new and untested angles constantly. But first, it's essential to understand the core principles that shape these stages.
Design Thinking Principles
Design Thinking processes are built on these five foundational principles.
Empathy and User-centricity: Design Thinking focuses on user empathy to design an innovative product and organically meet users' needs. Thus, understanding and empathizing are critical to ensure that the solutions resonate with the users' perspectives and needs.
Collaboration: Innovation is possible when diverse ideas, opinions, and perspectives converge. The Design Thinking approach encourages heterogeneous and multidisciplinary teams to work cohesively.
Ideation: Ideation is a core design principle and a step in the Design Thinking process. Designing thinking is all about bringing multiple ideas to the table without judgment to find as many solutions as possible instead of focusing on results.
Experimentation and Iteration: Design Thinking, an iterative approach, requires experimenting with different ideas, converting them into prototypes, testing them, and making changes based on the user's feedback. In addition, design iterations help uncover and fix loopholes in your proposed solution.
A Bias towards Action: This principle of Design Thinking shows that the approach is inclined towards action rather than discussion. Instead of hypothetical assumptions on what users want, Design Thinking encourages engaging in interactions. It involves testing prototypes in the real world for various user contexts.
Five Stages of the Design Thinking Process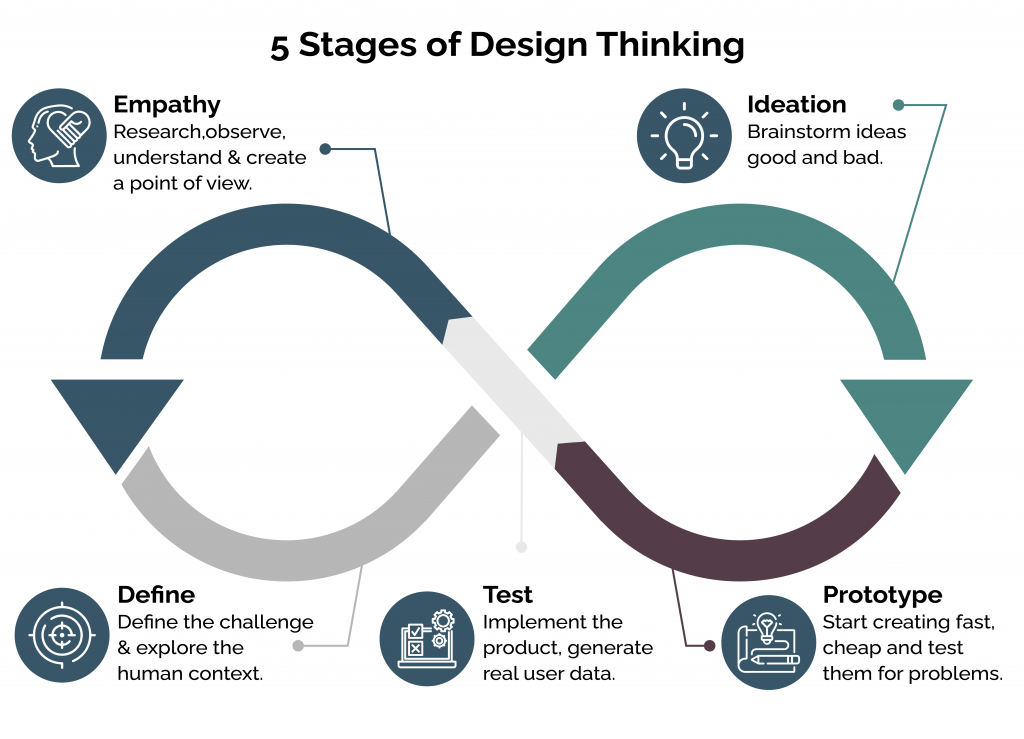 1. Empathy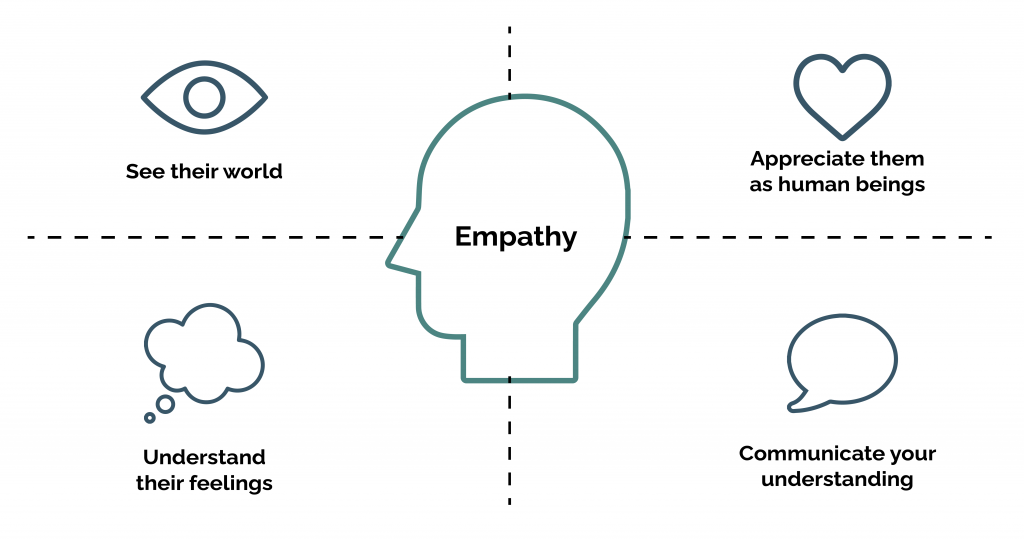 This stage involves sitting down with real users and noting their perspectives, points of view, and expectations. Then, designers can get unbiased introspections into human-centric problems to build a crucial bridge between the target user and the solution being designed. Some of the actions Designers can take during this stage are:
Consulting SMEs for insights.
Handling an issue personally for a better understanding of a user's POV.
Having profound conversations about a topic with users and peers.
Finally, immersing oneself in a user's environment.
Empathy helps uncover a user's motivations and experiences that will ultimately blend with a designer's product.
2. Define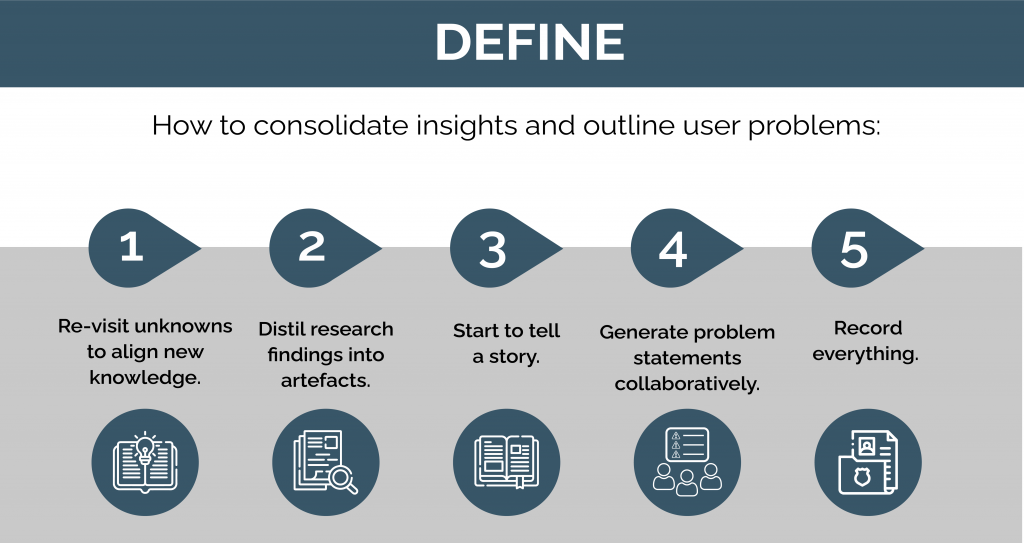 Here, designers can succinctly articulate a design challenge or problem using Analysis and Synthesis. Then, after understanding the user's perspective through empathizing, the designer can integrate it into the human-centric issue at hand and outline the problem statement. This stage involves:
Analyzing the gathered data from empathy and synthesizing the information for problem definition.
Second, defining what the user needs in line with the problem statement, their challenges, and solutions.
Third, outlining the solution based on company-centered thinking and human-centered thinking.
3. Ideate
This stage leans heavily on how creative and inventive a designer is in solving the defined problem. Without concerns over scalability and budget, designers need to think out-of-the-box. At this point, designers will get a workable understanding of their user base without focus on the limitations. Brainstorming, continuous discussions, and idea-sharing with team members prepare designers to taste success by garnering trust and confidence. Some of the methods include Brainstorm, Challenge Assumptions, Storyboard, Creative Pause, and Crowdstorm.
4. Prototype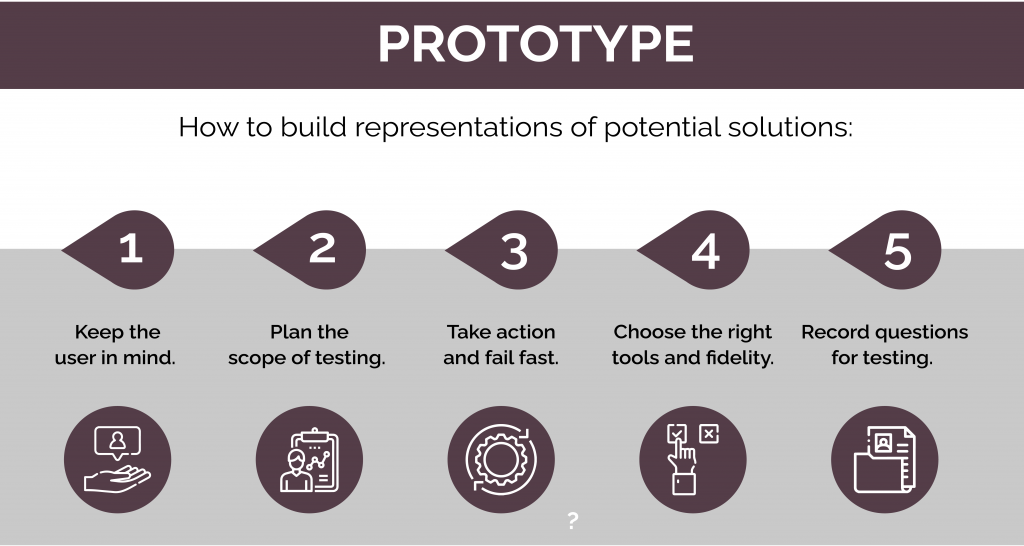 Here, an idea is converted into scaled-down and inexpensive prototypes like sketches, models, or digital versions. The testing ground is set where many facts and truths come to light in the virtual environment. Better decision-making involves designers working using target individual problem-solution scenarios and advanced knowledge of limitations and roadblocks. Designers gain clear visibility into user behaviors, reactions, and expectations.
5. Test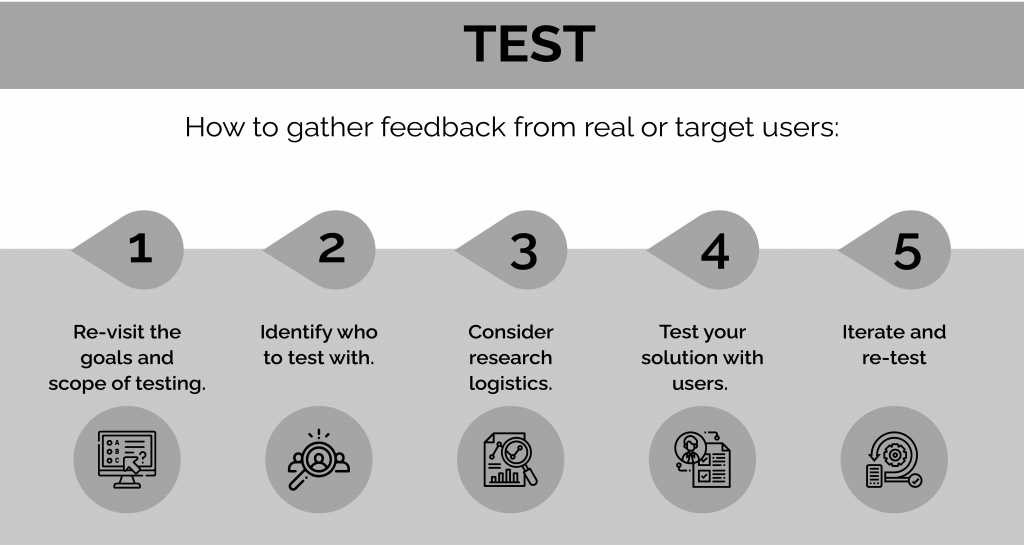 Testing allows designers to understand how the prototype works with real users and data. Then, you can run the test, observe the results, take feedback from users, and make the necessary improvements. Testing is often iterative and involves designers rolling out multiple prototypes for different datasets and change factors within an idea. Without extensive testing and refinements, user experiences and solutions will have difficulty scaling. Testing may also "restart" other design thinking processes such as creativity, as new ideas may spark additional proposed solutions.
Implementing Design Thinking in Design Sprints
Design sprints allow teams to finalize their critical business goals using a compressed version of these stages to efficiently design, prototype, and test. During a sprint, designers run through the end-to-end design thinking process within a week. This is useful since sprints don't necessitate full feature-building or a product launch. Sprints help gain design visibility from quick prototype iterations instead of waiting for the final product launch to initiate testing.
The Take-Away
In essence, the Design Thinking process is focused, flexible and iterative, where the designer-user collaboration will define the success of all stakeholders.
If you want to know how the Design Thinking process can be applied to your customer context and solution, connect with our experts today!