Business leaders often experience the heat to remain competitive, deliver quality-driven products and services, optimize costs, and improve productivity.
Many of them are leaning on Business Process Management (BPM) software to make their daily operational processes adaptable, agile, efficient, and reliable to remain relevant in a dynamic tech marketplace.
Some companies consider BPM as an evolution of application development that often incorporates automation. The others use BPM to implement a mix of Lean, Six Sigma, CI, or TQM methodologies. Either way, BPM software tools enhance the operational environment to facilitate change and gain visibility on how things are working in reality.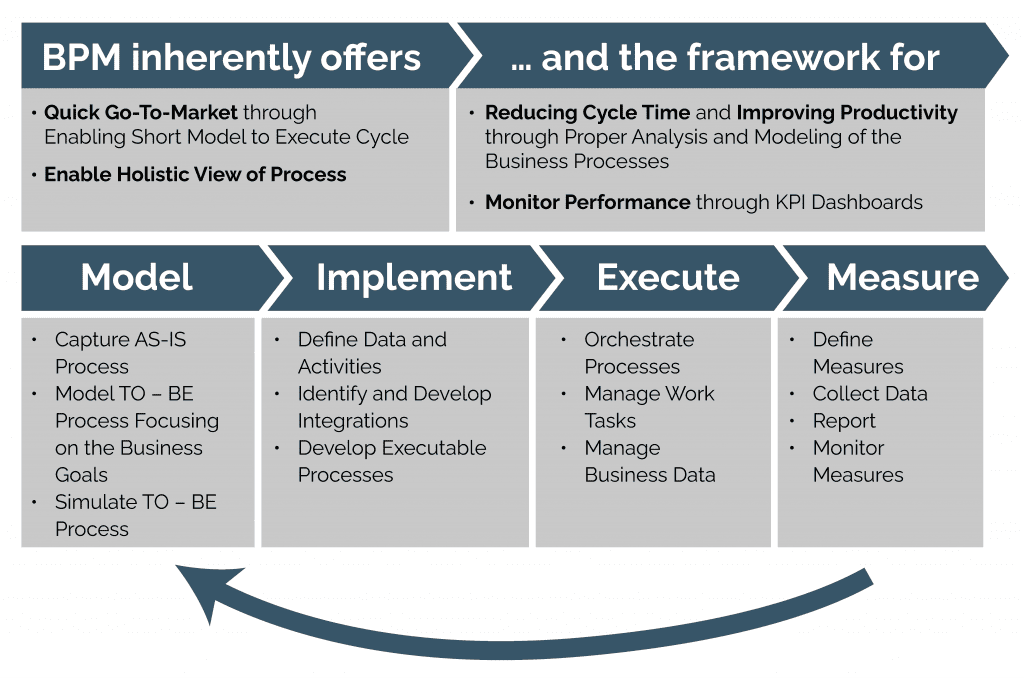 This traditional model supports a domain-driven design, thus allowing for cohesive and high-performing solutions.
Before we delve deeper into the benefits and types of BPM, let us understand what BPM stands for.
What is BPM?
According to Gartner, Business Process Management is a discipline that implements various tools and methods to design, model, execute, monitor, and optimize business processes.
It is a holistic and systematic approach to achieving optimized business outcomes.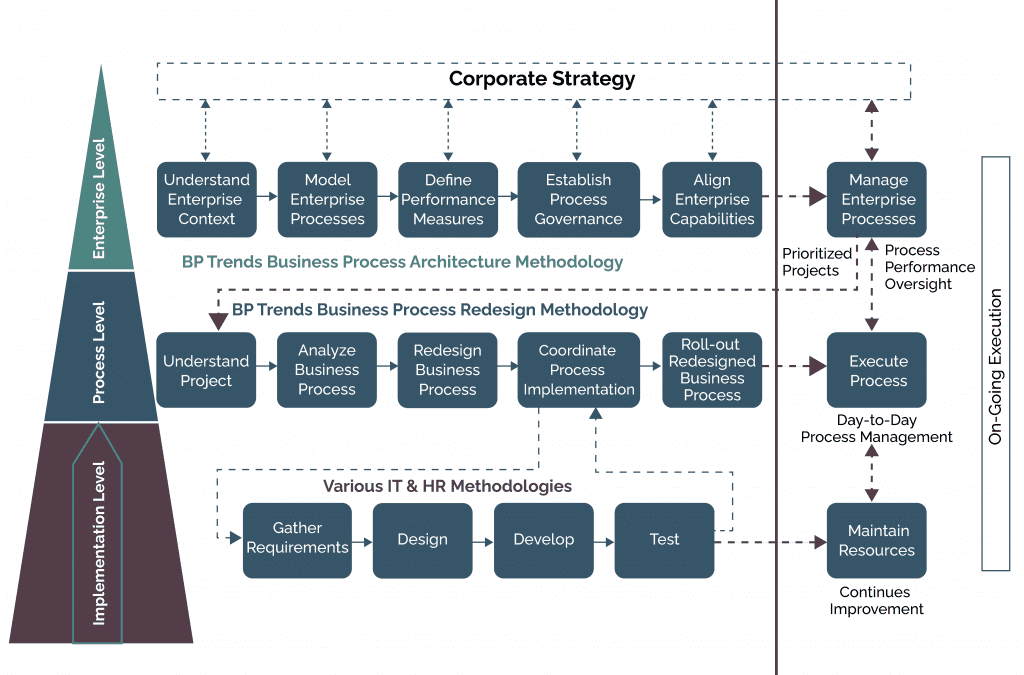 BPM focuses on making routine transactions consistent and automated for human interactions. It helps businesses reduce their operational costs by minimizing waste and rework and increasing the team's overall efficiency.
What BPM is not
BPM is often mistaken for a software product. Instead, it is a collection of organized tools that help businesses automate multi-step, complex, and repetitive business processes.
BPM is also not a Task Management process for handling or organizing a set of activities. On the other hand, it is focused more on optimizing mundane and ongoing processes that follow a predictable pattern.
Purpose of BPM
BPM is used to manage the five critical stages of an organization's business processes.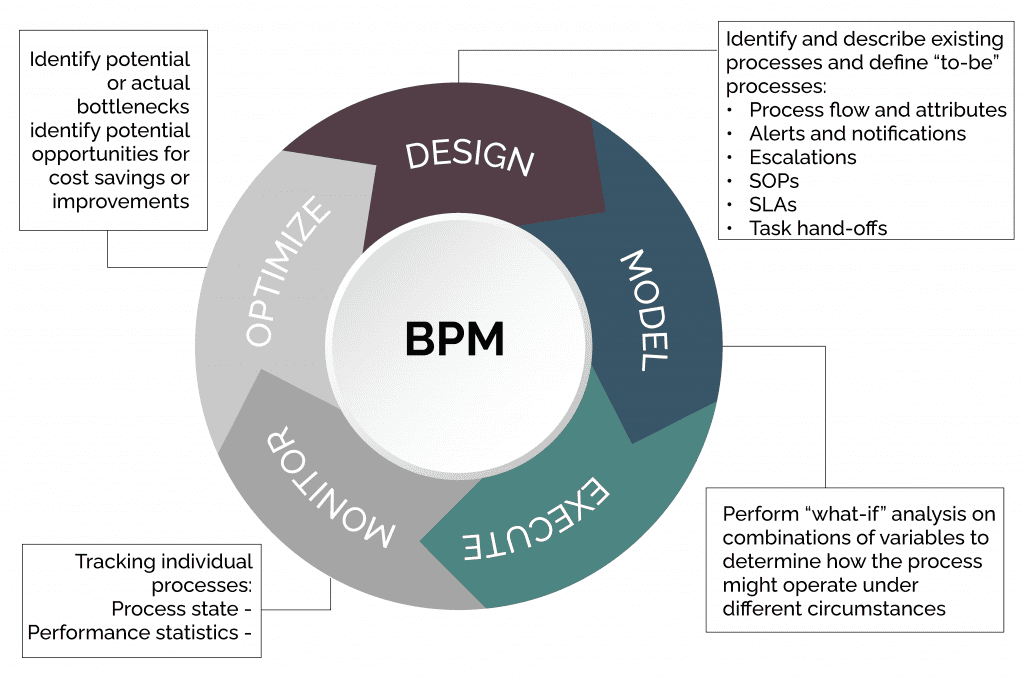 Design: Before designing a product, business analysts review business rules, interview the stakeholders involved, and discuss the management's desired outcomes. This helps understand the business rules and ensures it is implemented to produce the desired results aligned with the organizational goals.
Model: BPM helps model a framework/solution/process by identifying, defining, and representing new processes to meet the current business rules.
Execute: BPM tools help execute the business process through live and incremental testing with a small group of target users before opening it to a larger user group. Where automated workflows are involved, the processes can be expedited and streamlined to minimize errors.
Monitor: With BPM tools, teams can establish Key Performance Indicators (KPIs) and track real-time performance through dynamic reports or cognitive dashboards. BPM lets analysts focus on the macro or micro indicators of an entire process vs. each process segment in isolation.
Optimize: BPM puts an effective reporting system in place to steer operations toward process improvement. Business Process Optimization (BPO) helps redesign business processes, integrate them, and improve process efficiency by aligning individual business processes with a comprehensive strategy.
Business process management is crucial for organizations that thrive on high-volume information processing and consistently analyze and improve their data quality and usability.
By implementing a BPM solution, you can provide quick responses to challenges and opportunities. At the same time, business leaders would be well-equipped for decision-making that impacts overall company growth.
BPM is necessary if you want to:
Analyze, filter, and combine information for timely access, data democratization, analysis, and improvement.
Automatically synchronize data that is fed into the system with the existing processes.
Design customized operational models to cater to unique business use cases.
Keep track of all the digital data being provided into your Enterprise system and the systemic changes that evolve.
Gain an early discovery of existing loopholes and inefficiencies that impact outcomes, incapacitates the business system, or slows down processes.
Benefits of Implementing Business Process Management
Business Process Management helps organizations in total digital transformation that allows realizing significant organizational goals.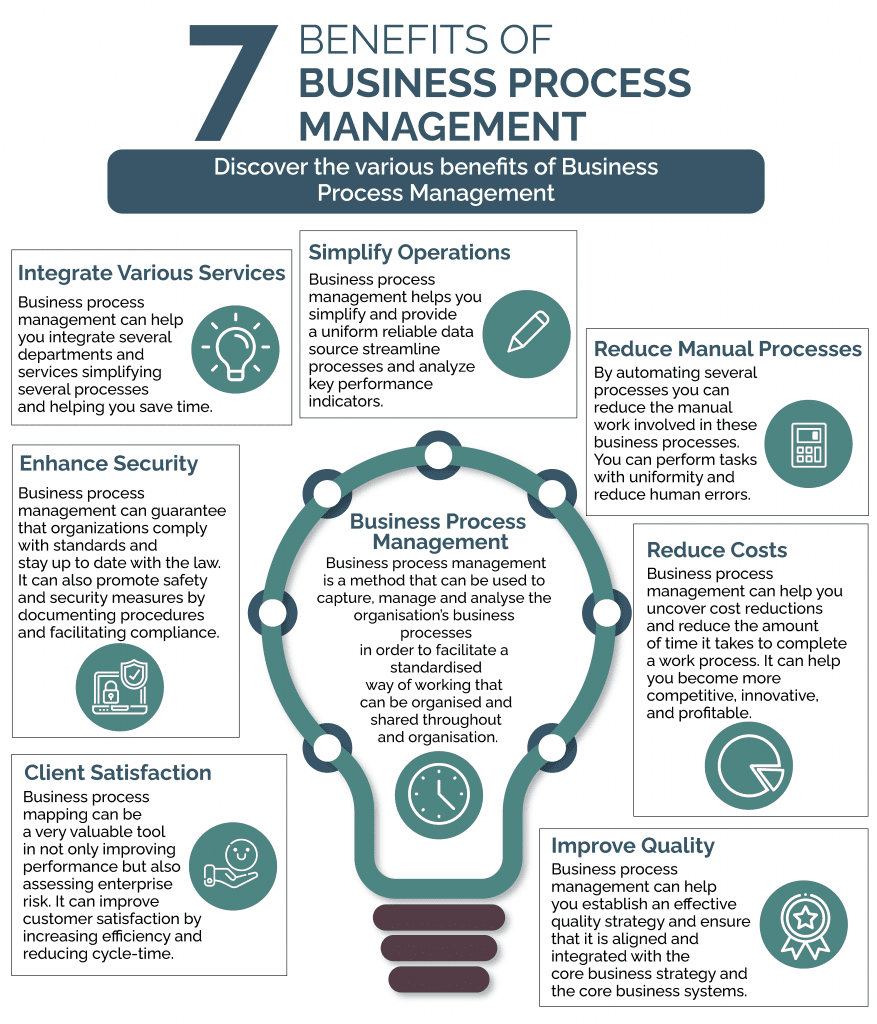 Other additional benefits include:
Improved Business Agility: An optimized business processes lifecycle is necessary to meet dynamic market conditions. BPM allows organizations to streamline business processes, implement change quickly without errors, and execute critical functions with maximum productivity. Altering, reusing, and customizing workflows make business processes more responsive because of more profound insights into how the process modifications will impact business outcomes.
Higher Revenues: A business process management tool alleviates bottlenecks and reduces Lead times with faster time-to-value through quick access to services and products by customers. It helps minimize revenue leaks by helping track resource utilization, wastage, and performance.
Higher Efficiency: When the right information is input, teams can closely monitor delays and re-allocate resources as needed. Automation reduces repetitive tasks to a single execution, while intelligent process automation helps take human-like decisions for optimized business process results.
Better Visibility: By testing different project models with different parameters/designs/scenarios, and real-time monitoring, results can be compared for better decision-making and outcomes tracking. With BPM tools, you can determine how a process would work under optimal conditions and make high-performance adjustments.
Types of BPM Systems Based on Purpose
Integration-centric: This BPM system helps organizations build, improve, and integrate processes, applications, application objects, or system artifacts in their existing enterprise systems (e.g., HRMS, CRM, ERP, etc.) or new systems to minimize management risks and overhead.
Integration-centric BPM systems characterize extensive connectors and API programming to support agile and easy model-driven development. They work primarily with the business' SOA to monitor the interaction between computer programs and other digital entities.
Human-centric: These BPM systems help streamline processes that need extensive human intervention. These include multiple levels of approval and diverse tasks performed by experts. These platforms have user-friendly interfaces that don't need programming experience and support quick tracking and user notifications.
These tasks include data review, (repeatable) document creation (contracts, proposals, and reports), image development for design, approvals or authorizations, etc.
Document-centric: This solution is required when a document (e.g., invoices, contracts, project documents, etc.) is at the heart of the process. The BPM enables role-based routing, formatting, error-checking, verification, validation, and getting the document digitally signed as each task passes along the predefined workflow.
This system's primary goal is to delve into the processes entirely and discover any obstacles that may prevent a seamless document flow. 
jBPM – Radiant's Recommendation
jBPM is a free Open source BPM software with a workflow engine to bridge the gap between business analysts and developers.
It helps improve efficiency, accelerate productivity, and improve outcomes through automated Decisioning support for business users and developers.
Stay tuned for an article on jBPM capabilities, Radiant's approach to Enterprise Business Transformation.