How do you understand your user? What role does empathy play in the world of design? And once you know more about your users, how do you use that data to inform your designs?
All of these questions are at the heart of the practice of empathy mapping. In this blog, we'll be exploring what empathy mapping is and how it can help to improve UX design.
What is an Empathy Map?
An empathy map is a tool used by designers to understand and visualize user behavior. It is a simple tool capable of encompassing complex ideas, workflows, and patterns. Empathy maps can be used to work through concepts and to communicate findings to colleagues and other departments.
With an empathy map, you can unite a team under a shared understanding of a user base and start creating products and services that connect with people on a deep level. Dave Gray, the founder of the strategic design consultancy XPLANE, was the person that first had the idea to make empathy maps part of the design process, and this idea has caught on throughout the design world.
Gray envisioned that the empathy map would limit miscommunication and misunderstanding concerning users and target audiences. An empathy map should be the tool to visualize all the findings you receive from user research. It will allow designers to present data in an easily digestible format.
Ideally, it should take a designer no more than 20 minutes to create an empathy map on a whiteboard or a piece of paper. It's a simple exercise that allows designers to gain a greater perspective on their user base, discover gaps in user research, and highlight the work that still needs to be done to understand the user entirely.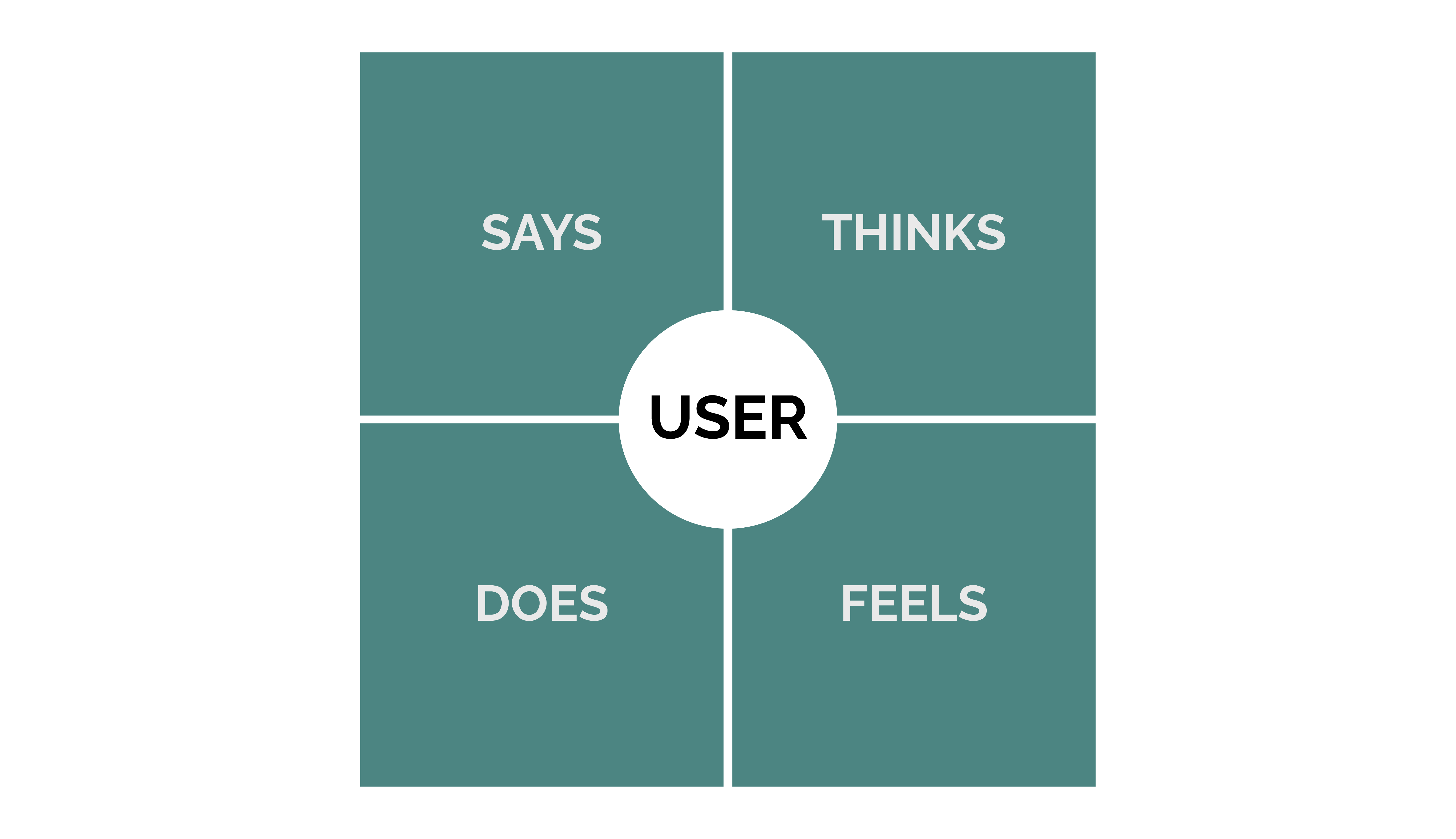 Best Practice Tips:
Fill out the Empathy Map

Review your research and fill out the four quadrants while asking yourself:

What did the user say?

What did the user do?

What did the user think

How did the user feel?

As you work your way around the map, you will get deeper and deeper into the psyche of your user. First, you recognize how they behave; then, you will dig into why they behave that way.

Synthesize Needs

What are your users' needs? Remember, needs, in this context, should be verbs, not nouns. If you need help, use Maslow's Hierarchy of Needs to help you understand and define the needs of your users. Then write these all down.

Synthesize Insights

By exploring user actions and motivations and translating this information into a set of 'needs,' y' will be able to draw various insights.

Often, insights can arise when you notice surprising or novel behavior.

Write down your insights.
Why Should You Use Empathy Maps?
 There are two key reasons why you should make empathy maps a regular part of your design process:
1. They help you to understand a user or persona:
The purpose of an empathy map is to understand the user. By understanding your users, you can make better designs and build more authentic relationships. An empathy map can help you categorize and appreciate qualitative research. Moreover, the mapping process will help you discover gaps in your knowledge and allow you to uncover hidden insights about your users.
2. They help you to communicate:
Once you have all this data about your user, what should you do with it? An empathy map is a concise and coherent way to communicate user attitudes and behaviors to people in your team and beyond. Designing anything complex, you will probably be working with various departments. An empathy map is a convenient shorthand to help you spread the message about who your users are and what they want.
Key Points to Remember
Empathy mapping is a practice that works best within a team environment. It will help you to understand the user and the thoughts of the designers within your team. You can look through the eyes of the user, empathize with their story and start creating.
Some of the key points to remember as you go on to create your empathy maps include:
Know your subject and decide on the scope of the empathy map.

Collect and simplify all relevant data.

Fill out your map logically.

Complete the outer sections of the map before moving on to the center sections.

Reflect on the content of the empathy map; what have you discovered?

Draw precise conclusions and use them to inform your designs.
Please get in touch with our UX experts to understand empathy mapping and its role in the design.