If minimizing failures, shortening development cycles, and smoothening the product development cycle are your paramount goals, then Digital Twin adoption should be your top priority. Digital Twin offers visibility on your production line and helps predict the future of various processes. It essentially helps maximize OEE, optimize productivity, and improve business profitability. In other words, Digital Twin empowers engineers to analyze, explore, and assess physical assets, processes, and systems using virtual tools. This ability helps gain a highly accurate view of what is happening now and what will happen next.
What is Digital Twin?
Digital Twin is a technology that engages AR, VR, 3D graphics, cloud, AI, data modeling, and other emerging technologies to build a virtual model of a system, process, product, service, or other physical objects. This virtual replica of the physical world gets updated based on real-time updates and environmental parameters.
'Digital Twin' is often mistaken for being a simulation. But, in reality, it merges business logic, IoT data, modeling and simulation, and Data Analytics to predict a physical system's behavior. Converging virtual and physical worlds helps manufacturers and AR/VR businesses head off problems before they occur, prevent downtime, improve the scope of their products/services and even plan for the future by using simulations. A contemporary Digital Twin combines multiple interacting systems to account for different facets of the physical system.
Origins in Aerospace
Digital Twin's origination can be traced back to NASA's Apollo 13 mission. During the building process, NASA had built multiple simulators of various systems of the actual spacecraft that they initially used to train astronauts for failure management. Real-time data was used during an explosion in the oxygen tanks (which critically affected the main engine) to modify the simulators and emulate the damaged spacecraft condition. Instead of IoT, advanced telecommunications was used for two-way data transfer. Modified simulations provided critical information to the crew, ensuring their safe return to earth. Thus, NASA had nearly set up the modern-day Digital Twins framework.
Why Digital Twin is Helpful
The Digital Twin is used in specified analytics workflows to facilitate the planned business outcome, using consistently acquired environmental and operational data. The data flow consistency allows the Digital Twin model to continually adapt to environmental and operational changes and deliver the best results. Thus, the Digital Twin reflects the physical asset or system's living model offering the near-accurate representation during development. This technology can be rapidly and easily scaled for a quick deployment for similar applications.
Digital Twin helps model at these levels:
Component level – Focus is on a single, highly critical component within the manufacturing process/facility/production line.
Asset level –A Digital Twin is created for a single asset within the production line.
System-level – The Digital Twin helps monitor and improve a production line system.
Product Level- This technology helps monitor and test a product in real-time as used by real customers or end-users.
Process level – The Digital Twin focuses on optimizing processes like design, development, and production. It also relates to the distribution and consumption lifecycle of end-products and the development of future products.
Digital Twins allow engineers to test a physical product through virtual modeling and monitor which aspects may need to be improved, replaced, or augmented. It also helps evaluate the risks and issues that might occur in the future without ever using the product.
Additionally, Digital Twin can help:
Enhance product traceability.
Test, validate, and refine assumptions.
Increase the level of integration between unconnected systems.
Remotely troubleshoot equipment, regardless of the geographical location.
A digital twin performs real-time tests on a Minimum Viable Product (MVP), process, or system based on real-time updates (data and status) and real-world dynamics. The state of the Digital Twin changes as it receives new data from the physical object. As this model matures, it generates more accurate and valuable outputs.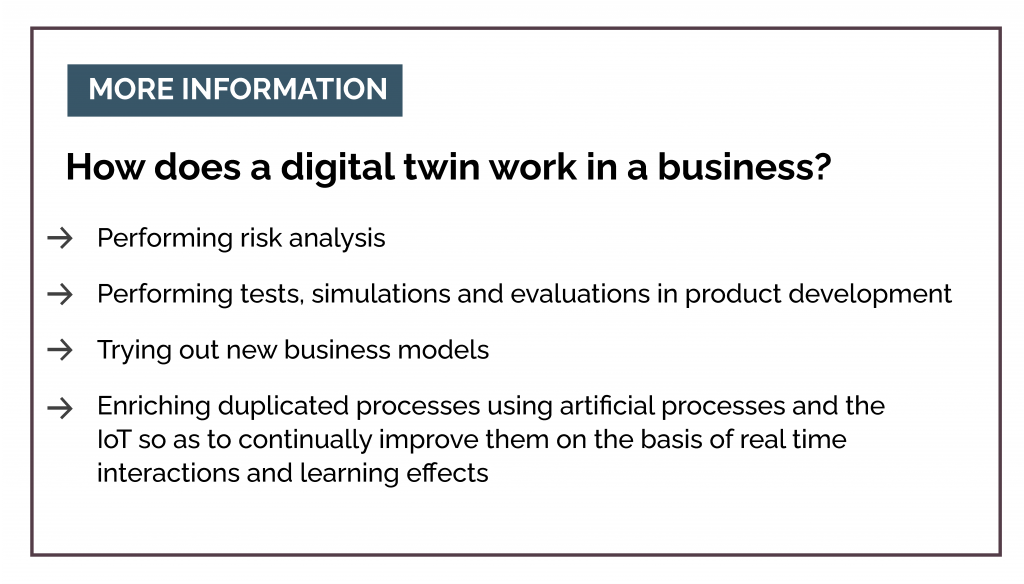 Building Block of Digital Twin
Digital twin needs data, algorithms, sensors, and a data access framework. This is called a digital thread that runs through the data network, establishing links and correlations. The digital thread ensures that all the process components can access the latest sensor data in a product lifecycle (sample shown below).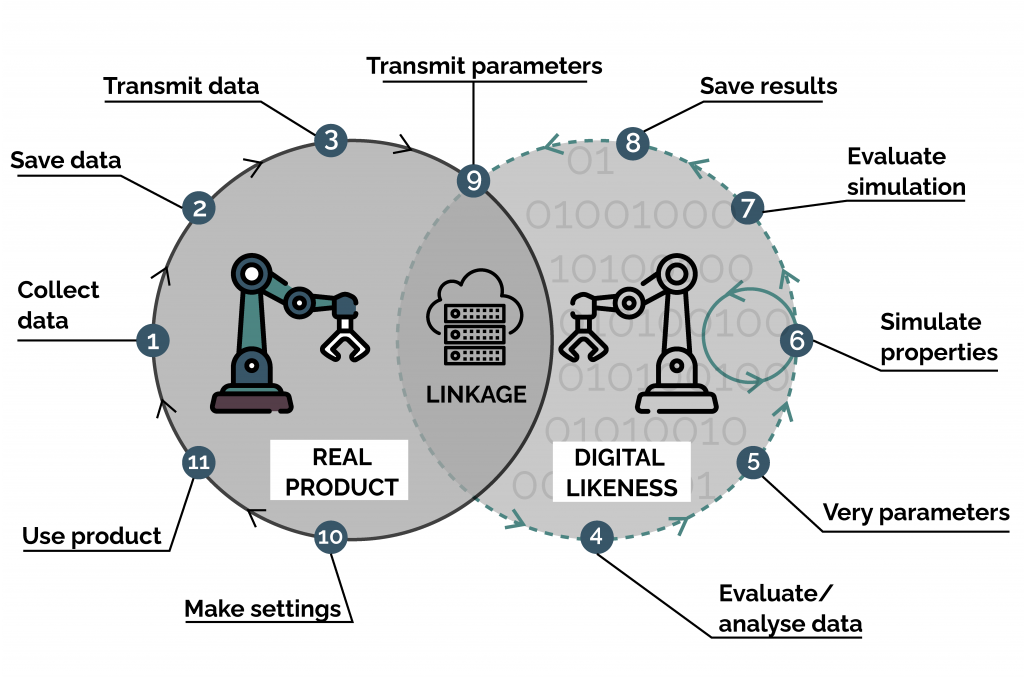 A digital thread can follow the entire life cycle of different products. It can connect the design requirements to its implementation, manufacturing instructions, supplier management, and end-customer processes. A digital thread offers a complete overview of the product's performance across business functions and departments based on real-time data.
Benefits of Digital Twin Technology
Improve the reliability of equipment and production line processes.
Enhance OEE, reduce downtime and productivity.
Aid better resource utilization and reduces wastage.
Help improve product availability, marketplace reputation, and quality.
Lower maintenance costs through predictive maintenance and increases visibility by at least 30%.
Lower production, lead time, and time-to-value by nearly 30%.
Improve customer service through remote configuration and product customization.
Make supply and delivery chains more efficient.
Improve ROI and profitability.
Challenges Solved by Digital Twin
In a product lifecycle, Digital Twin can solve the following challenges.
Engineering Design: Digital Twin helps meet complex product requirements and stringent regulatory requirements. It helps,
Support rapid development cycles.
Explore the effects of various design alternatives.
Perform simulations and testing to ensure that product designs won't go astray.
Manufacturing Build: Digital Twin helps meet the changing demands for better efficiency, yield, and quality. It adds clarity to how a projected change might impact costs or schedules in a manufacturing project.
Operations and Service: Digital Twin helps minimize unexpected downtime, worker safety incidents, and operational glitches. It provides the current operational status and statistics on system alerts, maintenance issues, KPIs, etc.
Handling Data
Present data – Digital Twin works on real-time data from equipment sensors, manufacturing platforms and systems' output, and data from all the systems in the distribution chain. It may also utilize departmental business system data like customer service or purchase information.
Future data – Digital Twin can implement the model with ML or analytics-based predictive data from engineers.
Essential Components of a high-fidelity Digital Twin
Business Logic: This provides a defined set of rules for the Digital Twin to manage data. It defines the interactions between business objects, the conditions, and the operational sequence. The business logic should also enforce routes and methods by which the said business objects are accessed and modified.
Internet of Things (IoT) data: Data is a vital asset of a fully functional Digital Twin. Real-time sensor telemetry data from physical devices need to be collected, stored, and relayed as input. IoT data offers visibility into the system lifecycle. It replaces assumptions with real data for systems planning and designing. This data closes the feedback loop with system usage data aiding operational decisions. Analyzing the historical data system patterns and performance stats against real-time sensor data optimizes asset utilization.
Modeling and Simulation: A Digital Twin model interface may include fields like property, telemetry, component, and relationship. For example, suppose a Digital Twin user is collecting temperature data of a room in a building. In that case, the property is temperature, the telemetry is temperature readings, and the component is a thermostat. The relationship represents how the room relates to the floor and the floor to the building, creating a knowledge graph of interrelated models. With models in place, users can simulate what-if scenarios to make design, operational, and performance decisions.
Output data analytics: Real-time sensor data collected from the physical system can be analyzed and visualized to interpret and communicate data patterns. These data patterns can help make effective decisions, predictions, and business performance improvements. Historical and current data comparisons help forecast future trends and improve high-level decision-making.
Digital Twin and Immersive Technologies
Sensors and actuators that help monitor and control systems capture real-time data. By connecting Digital Twin, data on the operations of the physical system can be analyzed and processed. The same data can be used to produce 3D objects and images overlaid with real-time sensor data. This helps product maintenance and field service where the Digital Twin can follow the product's location and movement. Digital Twin is useful for diagnostics, predictive maintenance, and product development, while AR/VR demonstrate their utility for product visualization, equipment maintenance, and training.
Market Perspective
In Germany, a Siemens plant had implemented Digital Twin as their production scaled up to 15 million units a year without expanding the factory floor or additional human resources. This led to a defect rate of almost zero as 99.99% of units required no adjustments.
Since 2015, GE had implemented over 500,000 Digital Twins for wind turbines before they were built, which led to 20% improved efficiency.
Experts predict the global Digital Twin market to reach USD 48.2 billion by 2026 with a CAGR of 58%.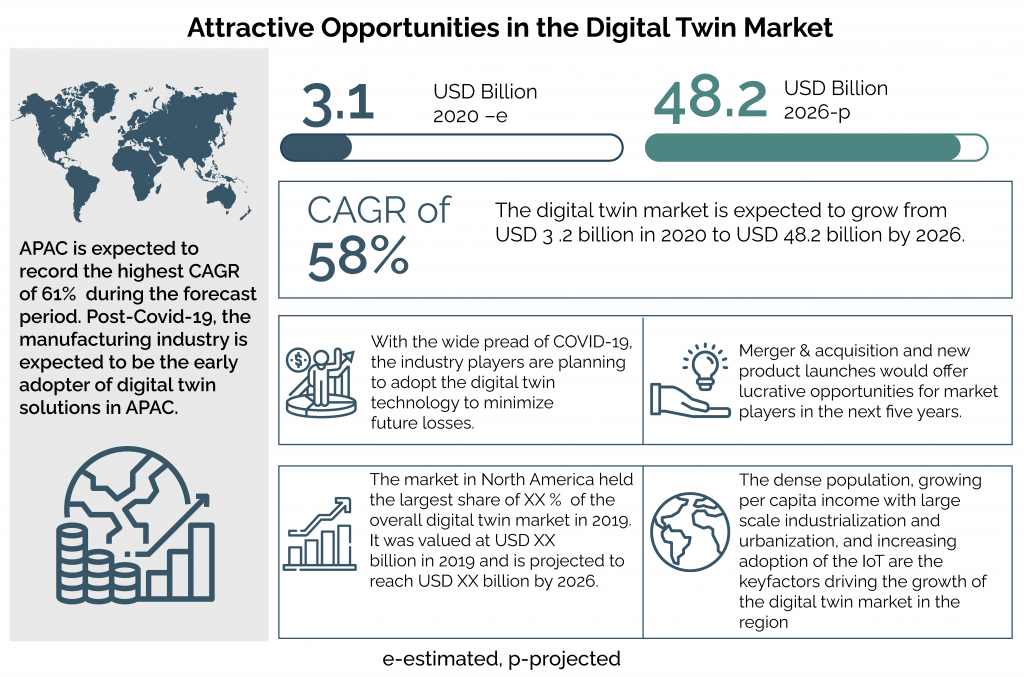 Wrapping up
Digital Twin can integrate system insights, improve visibility on machine states, and trigger appropriate remedial business workflows. Embracing this potentially disruptive technology now can help businesses remain relevant, competitive, and digitally transformed. Radiant is playing a key role in advancing this new technology!