Where should you direct your efforts if you're trying to improve your business? Should you focus on hard skills or soft skills? It is best to have a healthy balance between the two. Still, in recent years businesses have begun to realize the true value soft skill improvement can deliver to their organizational success. In this article, we'll be highlighting the difference between soft skills and hard skills, examining successful cases of soft skill development in eLearning formats, and finally providing recommendations for creating successful soft skills eLearning training.
Hard Skills vs. Soft Skills
So what's the difference between hard skills and soft skills? Let's take a look.
Hard Skills
Hard skills are job-specific abilities that you need to have to fulfill your day-to-day responsibilities. Hard skills, also known as technical skills, will differ significantly depending on the job position. For example, a retail worker will use customer-focused hard skills far more than someone who works in manufacturing and spends their time dealing with complex technical tasks.
Examples of hard skills include:
Bookkeeping

Accounting

Operating and repairing equipment

Analytics

Developing and programming (CSS, Python, Java, HTML)
Soft Skills
Soft skills are the non-technical skills and abilities that can help you function in a specific work environment. There are a variety of soft skills such as communication skills, cognitive skills, problem-solving, teamwork, and work ethic. Any individual can display a combination of these soft skills, and they can be learned and nurtured in all walks of life.
According to leading psychologist Daniel Goleman (1998), soft skills are a combination of competencies that relate to how we know and manage ourselves and our relationships with others. It's about how we think and interact with those around us. Some categorize soft skills into three main components: Personal Qualities, Thinking Skills, and Interpersonal Skills.
The US Department of Labor even provides definitions of these three components. The skills relating to Personal Qualities have to do with responsibility, self-esteem, sociability, self-management, and integrity. Equally, they note that Thinking Skills include creative thinking, decision making, problem-solving, knowing how to learn, and reasoning. Their definition of Interpersonal Skills concerns how individuals participate as a member of a team, how they teach others, serve customers, exercise leadership, negotiate and work with diversity.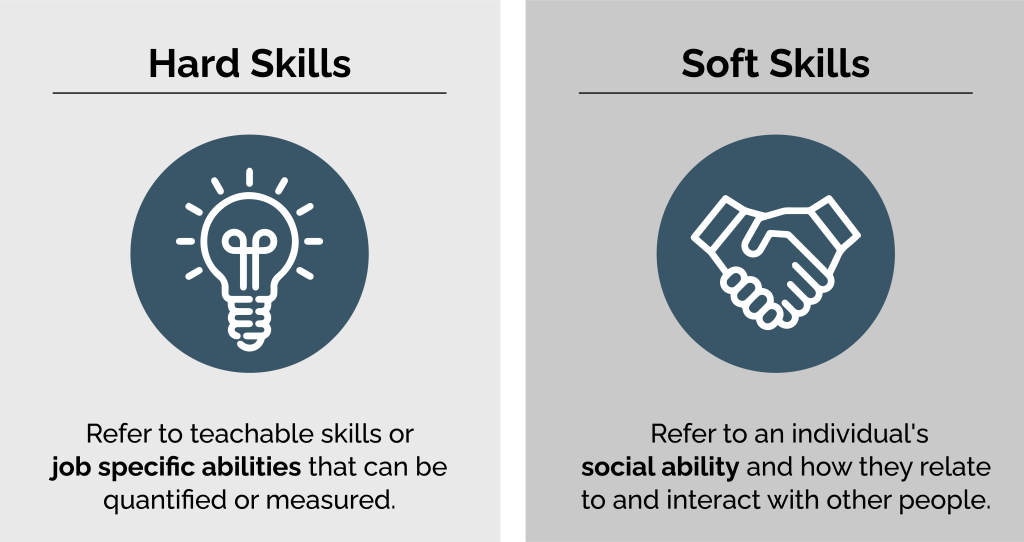 The importance of developing soft skills
Not only are soft skills important in one's day-to-day interactions, but they have also been proven to be found to be highly relevant in the business space. Developing soft skills also seems to be a top priority for many employees today, with 1 in 3 Americans believing soft skills to be the most important skills in the current job market.
In a national survey of 2,574 American adults aged 18 and older, 41% reported using soft skills frequently in their current or most recent jobs. In contrast, only 11% use hard skills (coding, technical knowledge, and lab skills) most frequently. These statistics support the idea that soft skills are integral to success at most jobs today, and it is worth investing more into growing a diverse set of soft skills within your employee base.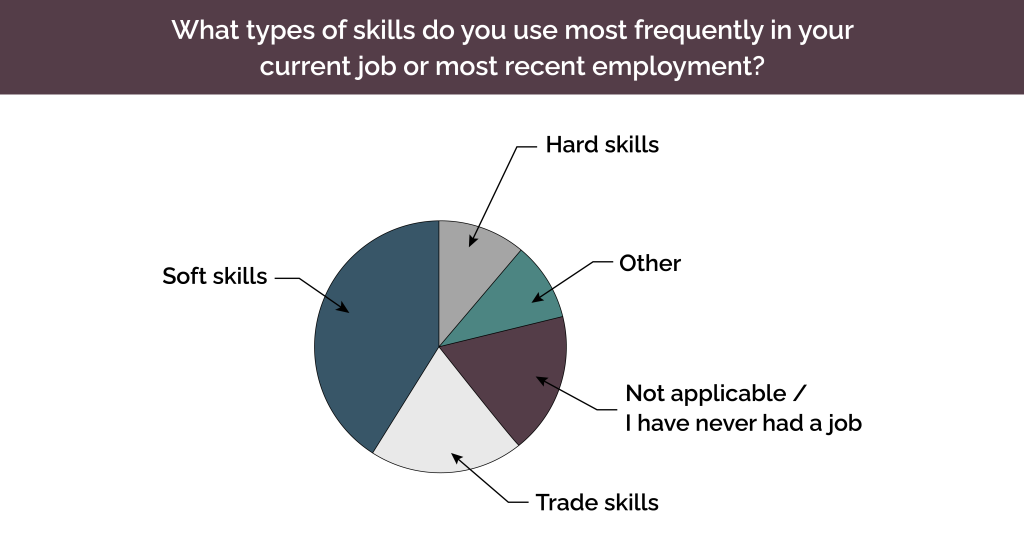 Teaching hard skills vs. soft skills in eLearning
Both hard and soft skills have plenty of potentials to improve eLearning processes. So, what are the advantages of investing in soft skills in eLearning specifically?
Advantages of soft skills in eLearning
Electronic learning (eLearning) is defined as education or training initiatives that take place anytime a learner uses electronic means to gather information acquired without an instructor's physical presence on location (Gustafson, 2002; Swan, 2003). E-learning is growing rapidly and can help significantly reduce a company's training time and cost.
By teaching soft skills via eLearning, you can improve your employees' communication, problem-solving, and teamwork skills at a lower cost and in a way that is more easily assessed. Additionally, employees also benefit from utilizing trial and error exercises which enable the learner to try multiple responses to a single situation, improving critical thinking and promoting retention.  In the development of soft skills, repetition is key to developing better behavioral habits; thus, readily available eLearning may be a better option than the traditional one and done in-person training method.
The challenge: How can you measure if skills are being obtained?
Hard Skills are more accessible to track than soft skills in any format because they are qualitative. Assessing these skills can be as simple as a yes or no question. Do you know this specific programming language? Can you operate this type of machine? You can easily measure the hard skill competencies of your employees and how they are developing over time.
Soft Skills are a bit trickier to measure. How do you know whether an employee has the right behavioral or communication skills to execute their responsibilities effectively? Measuring the results of soft skills training delivered via e-Learning is no easier than measuring soft skills training given any other way. However, when eLearning is used, it provides unique tracking metrics such as scoring simulations and knowledge checks, tracking the amount of time spent on a particular subject, the number of attempts made to reach the correct answer, and overall how often employees are accessing these soft skills training, with the more significant the repetition, the greater the chance of soft skill development.
Examples of soft skill success in eLearning training
Even though eLearning is still a developing field, there have been many studies in the past which have attempted to capture and document the ability of eLearning to develop soft skills.
Situational Leadership II
Through a CD-based course called "Situational Leadership II," the Navy successfully offered soft-skills training in employee coaching, management, and development to several thousand chief petty officers. A study was conducted to measure the effectiveness of the course, and it found that the officers who took the online leadership course increased their leadership understanding by 44%.
In further follow-up conversations with those who undertook the training, many officers said the course helped improve their abilities in mentoring, career advancement, and on-the-job training.
Business simulation course
In a similar study, students enrolled in a business simulation course at a university or business school on French campuses (Paris, Lille, Nice) and abroad (Morocco). Each group participated in an immersive business game addressing all aspects of business organizations. Even though the simulation only lasted three days (six half-days), all 11 of the soft skills that were measured increased. The most significant improvements were noted for 'Ability to express orally,' 'Ability to manage a project, and 'Ability to manage the environment.
Recommended strategies to employ when training soft skills
Even though eLearning, in general, provides a better avenue for soft skill development, specific techniques can be put into place to ensure learning and retention occurs.
1.    Create manageable and digestible learning
It isn't easy to develop soft skills overnight. To give your employees the best chance of success, create manageable, bite-size eLearning segments that allow digestible and sustainable learning.
2.    Promote learning through observation
Video is one of the best eLearning formats to help employees expand their repertoire of soft skills. Through video, learners can observe soft skills in real-life scenarios and quickly translate them into everyday work life.
3.    Utilize innovative and engaging formats
eLearning allows employees to engage in simulated scenarios to put them to the test with interesting exercises and deliver tangible results. Today, simulated systems are more sophisticated than ever, thanks to virtual reality, gamification, and other online formats.
4.    Make it measurable
As we've mentioned, it can be pretty difficult to measure soft skill progression, especially when compared to hard skills. So it is important to try and make your learning process as measurable as possible. Ensure that the training is centered on reaching a set of attainable goals tied to key performance indicators such as reduction in customer complaints, increases in positive feedback, reduction in staff turnover, etc. While anecdotal evidence, observation of performance, and surveys of participants have value, measuring key performance indicators has more weight. They enable you to see which soft skills are being applied to the job and whether the training enhances job performance.
At Radiant Digital, we create eLearning modules to reach set goals. To learn more about how you can develop soft and hard skills through eLearning, feel free to get in contact with our experts.