Data is a crucial digital asset for any individual or organization in their decision-making journey. According to IDC, by 2025, global data will grow to 175 zettabytes. This explosion in data from multiple sources like connected devices requires deriving valuable insights to make smarter data-driven decisions. Data Science helps enterprises understand data better and optimize its utilization for time-consuming and expensive processes. Collecting, analyzing, and managing data on-demand enables businesses to curb wastage, detect revenue leaks, and proactively solve problems to propel bottom lines. 
Data Science is a boon to any organization that needs to understand a problem, quantify data, gain visibility and insights, and implement data for decision-making. In this blog, we will take you through the basics of Data Science and give you a sneak peek into how top companies are implementing it.
Data Science – Definition
Data science is an interdisciplinary field of expertise that combines scientific methods, algorithms, processes, and systems to extract actionable insights from structured and unstructured data and apply the knowledge across a broad range of application domains.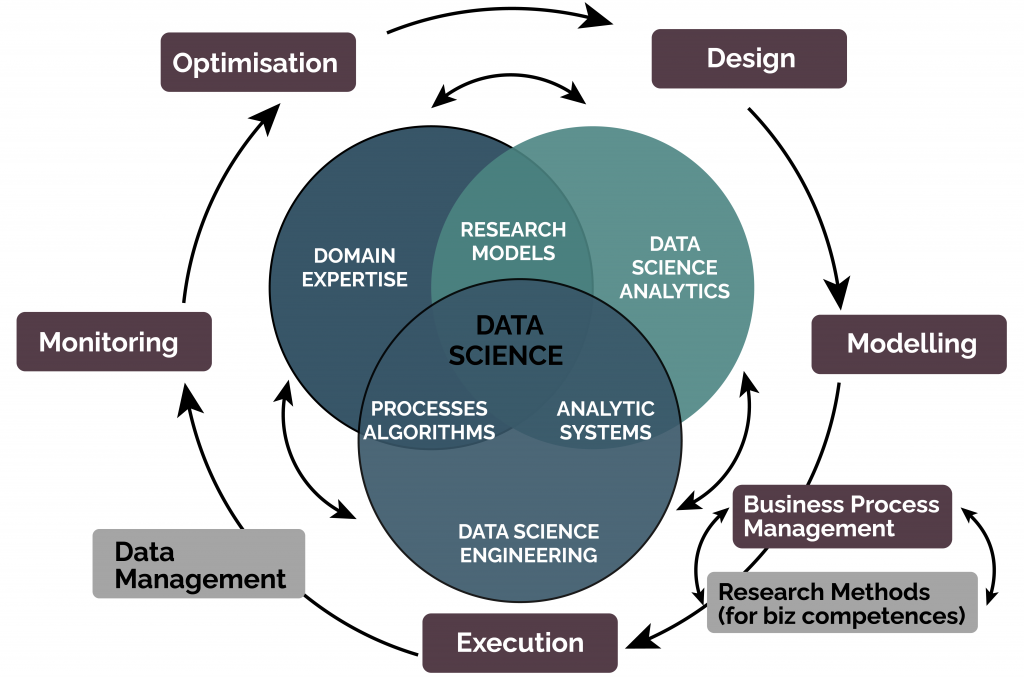 It converges domain expertise, computer programming, and engineering, analytics, Machine Learning algorithms, mathematics, and statistical methodologies & modeling to extract meaningful data insights. In business engineering, the Data science process starts by understanding a problem, extracting and mining the required data, continuing with data handling and exploring, moving towards data modeling and feature engineering, and culminating in data visualization.
Purpose
Data Science helps find different patterns within blocks of information that we feed into a system. It helps build data dexterity in implementing and visualizing various forms of data and supporting the following workflow.
It mainly serves the following Business Process Operations' stages:
Design
Model/Plan
Deploy & execute
Monitor & control
Optimize & redesign
Benefits for Data-centric Industries
A recent study showed that the global Data Science market is expected to grow to $115 billion by 2023. The following benefits attribute to this.
Better Marketing: Companies are leveraging data for marketing strategy analysis and better advertisements. By analyzing customer feedback, behavior, and trend data, companies can match customer experiences to their expectations.
Customer Acquisition: Data Scientists help companies analyze customer needs. Companies can then tailor their offerings to potential customers.
Innovation: The abundance of data enables faster innovation. Data Scientists help gain creative insights from conventional designs. Customer requirement and review analysis help improve existing products and services or craft newer and innovative ones.
Enriching Lives: In Healthcare, gaining timely insights from available data shapes seamless patient care. Data Science helps collect and streamline EHRs and patient history data to offer essential healthcare services.
Why Data Science?
With the advancements in computational capabilities, Data Science makes it possible for companies to analyze large-scale data and understand insights from this massive horde of information. Furthermore, with Data Science, industries can make proper data-driven decisions.
With the right tools, technologies, and data algorithms, we can leverage data to make predictions or improve decision-making.
Data Science helps in fraud detection using advanced Machine Learning Algorithms.
Allows to build and enhance intelligence capabilities when used with AI in the field of Automation.
Companies can perform sentiment analysis to gauge customer brand loyalty.
It helps companies make product/service recommendations to customers and improve their experience.
Data Science Components
Statistics include the methods of collecting and analyzing large volumes of numerical data to extract valuable insights.
Visualization techniques help access large data sets and convert them into easy-to-understand and digestible visuals.
Machine Learning includes building and studying predictive algorithms and generate futuristic data.
Deep Learning includes machine learning research where an algorithm selects the analysis model to implement.
How Companies are Revolutionizing Business with Data Science
Facebook – Monetizing Data through Social Networking & Advertising Textual
Analysis: Facebook uses a homegrown tool called DeepText to extract, learn, and analyze meaning from words in posts.
Facial Recognition: DeepFace uses a self-teaching algorithm to recognize photos of people.
Targeted Advertising: Deep Learning is used to pick and display advertisements based on the user's search history and preferences on their browser or Facebook.
Amazon – Data Science to Transform E-commerce 
Supply Chain and Inventory: Amazon's anticipatory shipping model uses Big Data for predicting the products potential customers are most likely to purchase. It analyzes purchase patterns and helps in SCM for warehouses based on the customer demand around them.
Product Decisions: Amazon uses Data Science to gauge user activity, order history, competitor prices, product availability, etc. Custom discounts on popular items are offered for better profitability.
Fraud Detection: Amazon has novel ways and algorithms to detect fraud sellers and fraudulent purchases.
Empowering Developing Nations
Developing countries use Data Science to determine weather patterns, disease outbreaks, and daily living. Microsoft, Amazon, Facebook, and Google are all supporting analytics programs in these nations by leveraging data.
 Data Science equips these nations to improve agricultural performance, mitigate the risks of natural disasters & disease outbreaks, extend life expectancy, and raise the overall quality of living.
Combating Global Warming
According to the World Economic Forum, Data is crucial to controlling global warming using reporting and warning systems. The California Air Resources Board, Planet Labs, and the Environmental Defense Fund are collaborating on a Climate Data Partnership – a common reporting platform designed to assist more targeted measures for climate control.
A combination of overlapping and distinct data projects, including two satellite launches, will help monitor climate change from space. The data from these satellites combined with ground data on deforestation and other environmental parameters will appropriately help implement global supply chains.
Uber – Using Data to Enhance Rides 
Uber contains driver and customer databases. When a cab is booked, Uber matches the customer's profile with the most suitable driver. Uber charges customers based on the time taken to cover the distance and not the distance itself. The Uber algorithms use the time-taken data, traffic density, and weather conditions to assign a cab.
During peak hours in an area, the shortage of drivers is determined, and the ride rates are increased automatically.
Bank of America – Leveraging Data to Deliver Superior Customer Experiences
Bank of America pioneered mobile banking and has recently launched Erica, the world's first financial assistant.
Currently, Erica is providing customer advice to more than 45 million users globally. Erica uses Speech Recognition for customer inputs and provides the relevant output.
More banks leverage Data Science algorithms like association, clustering, forecasting, classification, and predictive analytics to detect payment, insurance, credit card, accounting, and customer information frauds.
Airbnb – Customer-centric Hospitality with Data-centric Decisioning
Data Science helps analyze customer search results, demographics data, and bounce rates from the website.
In 2014, Airbnb mitigated the location-specific lower booking issue by releasing a custom version of their booking software for specific countries and replacing the neighborhood links with the top travel destinations around a location. This resulted in a 10% improvement in the lift rate for property hosts.
Airbnb makes knowledge graphs to match user preferences to the ideal lodgings and localities. The Airbnb search engine has been optimized to connect customers to the properties of their choice.
Conclusion 
Data Science lets you discover patterns from raw data and accelerate business conversions in a challenging digital landscape. It helps reduce the constraints of time and budget allocation while ensuring superior customer experience delivery. Connect with Radiant to learn more!