The success of an organization is dependent upon many factors, including having a great leadership team. A strong leadership team is a foundation for high-performing teams that in turn generate desired business results.
The need for leadership training and programs increases as organizations realize the challenges in building engaged teams, identifying skill gaps, and scaling learning across the organization. The 2020 Workplace learning report asked talent developers globally what their top three challenges were in 2020. They said that 36% struggle with increasing employee engagement, and 21% experience challenges in identifying skill gaps. This means HR and talent development professionals will turn toward the leaders and managers within their organization to help address these challenges. Often, leaders are required to complete some form of leadership training to allow them to acquire the skills and knowledge to build engaged and high-performance teams.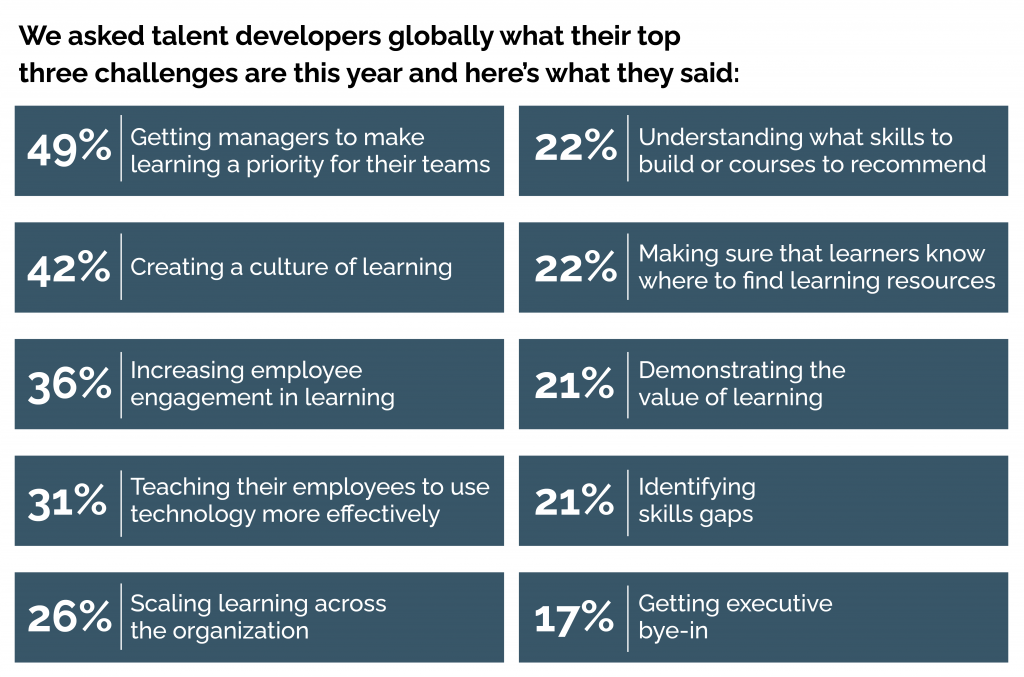 While there may be some exceptions, most leaders are not born; they are developed. Leadership skills are built through a range of options that include training (experiential, social, and self-directed), coaching, mentoring, and so on. To create long-term success, organizations continue to invest in leadership training to handle key leadership positions from the executive to mid-level and entry-level roles.
When leadership training is done well, the impact can be significant in team collaboration, inclusive building teams, and employee engagement. Leadership development initiatives will also create leaders across levels that are confident, competent, and can create and lead high-performing teams. Well-crafted leadership training helps organizations develop exemplary leadership talent and helps create more engaged, productive, and highly motivated teams aligned with their goals. The question is how to build practical leadership development training, and the answer is in the use of effective instructional design methods.
Here at Radiant, our instructional designers are ready to help you identify learning objectives needed for your leadership audience through a front-end analysis and create an evaluation strategy to assess if your leaders have learned or using the information provided. After all, it is imperative to evaluate the effectiveness of your leadership training as it impacts ROI. This article will outline simple tips and learning strategies you can use to design your leadership training and see better ROI.
Identify Your Talent Pool Across Levels
To begin designing practical leadership training, it starts with identifying the talent pool across the organization that needs to be groomed for leadership. The step can be done within your front-end analysis or needs assessment.
Identify Leadership Training Needs Across Levels
Since leadership training is provided at different levels that are very wide-ranging, it is essential to map specific training needs for each level. For example, the following three leadership levels are the typical target audiences for leadership training within most organizations. Within each level, the learning content will vary as new managers require different skill sets and knowledge than leaders at the executive level. There may be some common learning objectives across roles, but there will also be some differences.
Early to mid-career leadership training: The leaders at this stage are usually the individuals who are moving to team leads or entry-level managers. At this stage, the leadership training focuses on enhancing communication, conflict resolution, and motivation skills to lead teams.
Mid-career leadership training: The leadership training program needs to help identify individuals to create high-performing teams, building up from the first level. Some of them may be required to lead a business unit or department for mid-level managers, so the training must equip them with the ability to craft business strategies, understand organizational dynamics, and coach team members on driving project plans/ results.
Senior-level leadership training: At this leadership level, the training is significantly different from the levels described above. This audience's program may need to cover content related to business planning, competition analysis, and business strategy.
As you can see, training will vary across the roles of leadership in your organization. During the need assessment phase, identify your target audience to provide the most appropriate content for your leaders. To do a deep dive and uncover the competencies and or learning objectives needed for your leaders, Radiant Digital is ready to help you. Ask about our front-end and needs assessment services.
Adopt Strategies That Help You Deliver Successful Leadership Training
Power of Microlearning: Modern learners prefer learning to be bite-sized, focused, and action-oriented. Microlearning enables you to meet all these expectations and more. Each nugget helps learners meet a small outcome. They can be strung together as a series to offer a career pathway. They can also be used as instant job aids, learning summaries, or reinforce learning to offset the forgetting curve.
Bob Pike's 90-20-8 rule: Design your virtual in-person or e-learning course with Bob Pike's 90-20-8 rule in mind: Don't make your training longer than 90 minutes, change the pace every 20 minutes, and involve the learner every eight minutes.
Decide Instructional methods for your learners: Decide which instructional methods will help learners acquire the competence and confidence to use their new knowledge and skills on the job. Typical instructional strategies include lecture, case study, demonstration with practice, review games, role play, self-reflection, debate, group discussion, read and discuss, and simulations—your leaders may need a combination of these learning methods.
Again, here at Radiant, we specialize in crafting learning strategies best suited for your audience. Let us help you think of the most effective ways to design your leadership training.